Tom Hardy's Venom Voice Is The Rapper Redman Crossed With...Woody Allen?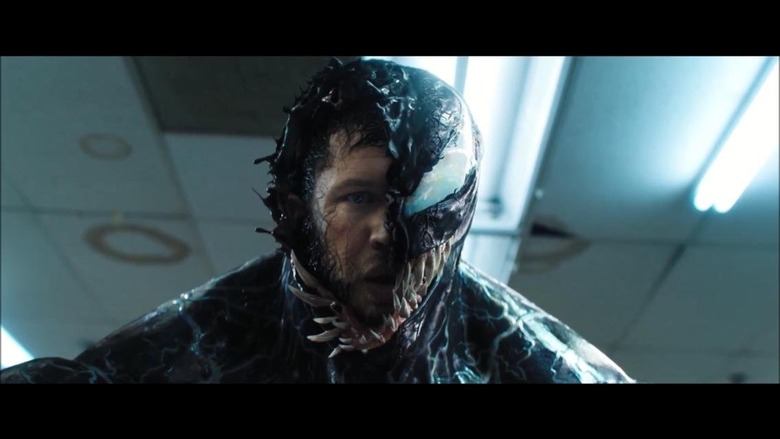 When Tom Hardy uttered his first line in the Venom trailer, it was met with a universal "...Huh?" Was Hardy doing his best Terrence Howard impression? Is this what he thought an intrepid journalist sounded like? And mostly, why?
Hardy is the rare kind of actor who seems to hate his own face and voice. And though that has brought him acclaim in the past, in films like Mad Max: Fury Road or The Dark Knight Rises, this is one acting choice that will probably only earn him a few raised eyebrows. But hey, let him tell you about his process. Maybe we'll come around to it once we read what he has to say about that truly weird voice.
Tom Hardy may be playing a comic book character in Sony's upcoming Spider-Man-adjacent film Venom, but his character's voice is inspired by some very real people. Namely the rapper Redman, the Irish professional mixed martial artist Conor McGregor, and...Woody Allen?
In an interview with Esquire, Hardy revealed the real-life inspirations that went into his dual roles of Eddie Brock and Venom:
"Woody Allen's tortured neurosis and all the humor that can come from that. Conor McGregor — the überviolence but not all the talking. And Redman out of control, living rent-free in his head." Those are not details he revealed to the execs at Sony, which is producing the movie. "You don't say shit like that to the studio," he says.
Tom Hardy, if bringing up Woody Allen is part of a plan to make you unattractive to us, it's working. Mostly. That seems to be Hardy's entire MO: to hide his movie-star good looks as much as possible. While before he relied on masks that covered his entire face or mouth, now he relies on voice imitations of an alleged Hollywood creep, a rapper, and a professional fighter. That's certainly a...choice. I totally bet that Hardy only signed onto Venom under the impression that he would get to wear a mask the entire time, only to be sorely disappointed — and now this is our punishment.
Ruben Fleischer directs Venom, which also stars Michelle Williams, Jenny Slate, Riz Ahmed, and Woody Harrelson, all probably speaking in normal voices.Venom opens in theaters on October 5, 2018.
One of Marvel's most enigmatic, complex and badass characters comes to the big screen, starring Academy Award® nominated actor Tom Hardy as the lethal protector Venom.