A Whole Bunch Of Big Names Just Raised $1 Billion To Change Mobile Viewing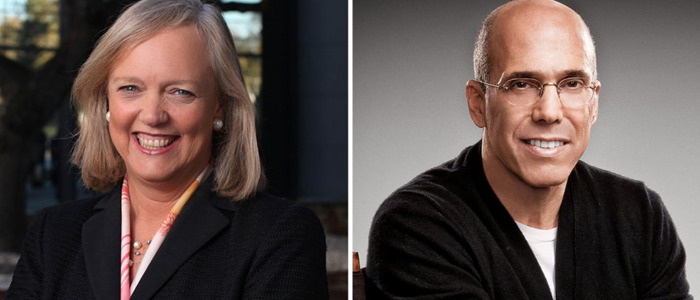 Any time a start-up manages to raise $1 billion in the entertainment space, it's worth raising an eyebrow. But when that same company's investors include every single major Hollywood movie studio and a tech giant like the Chinese company Alibaba (which is worth over $500 billion and is one of the 10 biggest companies in the world), it's really worth paying attention.
Enter NewTV, the working title for a new media company that "brings together the best of Silicon Valley and Hollywood to create the first entertainment platform built for easy, on-the-go mobile viewing, allowing today's leading studios and creative talent to tell original stories in an entirely new way." Buzzwords aside, what does that actually mean?
In a press release, CEO Meg Whitman explained NewTV (which is a working title for the company/platform) like this:
"More so than ever, people want easy access to the highest quality entertainment that fits perfectly into their busy, on-the-go lifestyles. With NewTV, we'll give consumers a user-friendly platform, built for mobile, that delivers the best stories, created by the world's top talent, allowing users to make the most of every moment of their day."
So what exactly is NewTV? Variety says it's "aiming to launch by the end of 2019, with a premium lineup of original, short-form series comprising episodes of 10 minutes each. The service will have two subscription tiers: an advertising-free plan and an 'advertising-light' option (a la Hulu), according to Whitman."
Jeffrey Katzenberg, former Walt Disney Studios chairman and DreamWorks co-founder, is also a co-founder of NewTV, and he says there's already "tremendous interest from Hollywood's top talent." If you'll recall, Katzenberg had an idea a few years ago to create more episodes of Breaking Bad after the finale and distribute them in 6-minute chunks, making the audience pay for each chunk. That idea was quashed as soon as he found out how the series was going to end, but it seems like the basic idea has stuck with him because that seems to be the underlying basis for NewTV.
"We don't consider this competitive with Hulu, or HBO, or Netflix, or the networks," Katzenberg said. "It's a completely different use case."
21st Century Fox, Disney, Entertainment One, ITV, Lionsgate, Metro Goldwyn Mayer, NBCUniversal, Sony Pictures Entertainment, Viacom, Warner Media, Alibaba, The Goldman Sachs Group, Inc., JPMorgan Chase & Co., Liberty Global, and Madrone Capital are all on board as investors. We'll keep you posted with more about NewTV when we hear it.