All 8 'Harry Potter' Movies Are Returning To Theaters This Month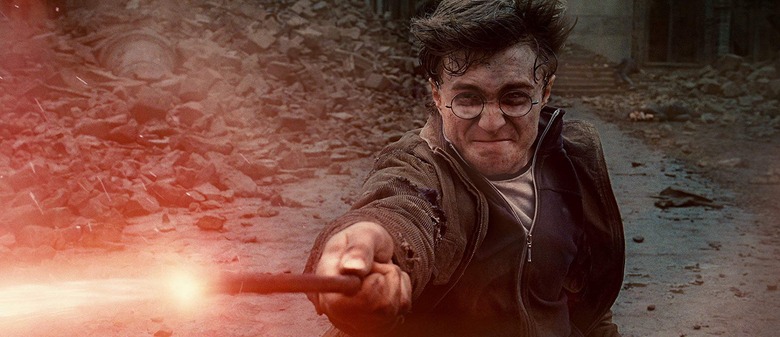 Harry Potter Weekends may have stopped taking over ABC Family (sorry, Freeform), but you can relive the magic of marathoning all the Harry Potter films again later this month. But this time, Warner Bros. will do you one better: the studio is bringing all eight Harry Potter films to theaters later this month — for a magically cheap ticket price. Find out how you can see all the Harry Potter movies in a theater near you.
In anticipation of the release of Fantastic Beasts: The Crimes of Grindelwald, Warner Bros. and Cinemark Theaters are showcasing all eight Harry Potter films as well as the spin-off Fantastic Beasts and Where to Find Them in Cinemark XD locations across the country.
Dubbed Wizarding World XD Week, this magical theatrical return will take place from August 31-September 6, 2018 at all 141 Cinemark XD locations. Wait, what is Cinemark XD, you ask? And is it different than Cinemark? The XD simply describes the theatrical chain's version of IMAX theaters that offer "premium label large-format experience" with "enriched color and immersive surround sound." So be prepared to be enchanted in a wholly immersive way.
But even though these are essentially IMAX theaters, Harry Potter fans won't have to pay the IMAX price. The tickets for the movies in Cinemark XD theaters are a super affordable $5 per film. Or if you really want to splurge, you can purchase the limited-quantity festival pass for $25 which grants access to all nine movies as well as a collectible keychain, a commemorative festival badge, and a specially designed cup (refillable for $3.50). All perfect accessories to go with your full Ravenclaw cosplay complete with scarf, toy owl, and wand that you purchased when the Wizarding World of Harry Potter first opened in Florida (I may or may not own all of these things).
By some magical circumstance, Wizarding World XD Week happens to coincide with the 20th anniversary of the Battle of Hogwarts, the final climactic showdown depicted in Harry Potter and the Deathly Hallows Part 2. And what better way to celebrate that glorious victory against Voldemort by throwing back a Butterbeer and watching all the Harry Potter movies until your eyes bleed?
There are no details for how often the screenings will be scheduled, but if we can go by the Harry Potter weekend structure, it'll probably be two to three films screened back to back per day.
For more information and to purchase tickets, go to cinemark.com/wizardingworld.