Johnny Depp's Biggie Smalls Movie 'City Of Lies' Pulled From Release Calendar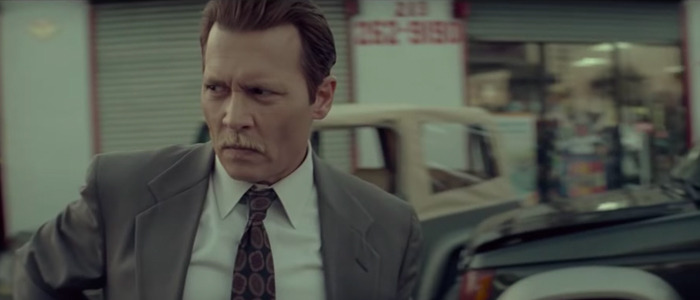 I'm not a statistician, but I'm guessing there are at least a few of you who were excited to see City of Lies, a film that stars Johnny Depp and Forest Whitaker as they try to crack the case of who murdered iconic rapper Notorious B.I.G. (aka Biggie Smalls) in a 1997 drive-by shooting. But you'll have to temper that excitement, because even though the movie was slated to come out exactly one month from today, it has now been yanked from release altogether.
Here's the film's trailer, just to show you what you're going to be missing out on:
Deadline reports that distribution company Global Road has not set a new release date, leaving the film's future hanging in the balance. Also complicating matters is a lawsuit against Depp from this film's location manager Gregg "Rocky" Brooks, who says "he was repeatedly hit by Depp after being informed that filming that night in downtown L.A. was going to have to wrap late." I wonder if Depp attacking a random co-worker will change any of his die-hard fans' minds about the allegations that he assaulted his ex-wife Amber Heard? (Spoiler: it won't.)
Brooks is charging Depp with assault and battery and "seeks damages for hostile work environment, retaliation, and wrongful termination among the claims."
In cases like these, I can't help but feel bad for all of the people who worked on this movie and are inadvertently punished for the bad behavior of its star. I've been on tons of film sets and the crews are always the hardest workers in the room – they get there early, stay later than everyone else, and are generally excited to show people what they've been working on. To have all that work go to waste is a huge shame, so part of me hopes this movie at least goes direct-to-video so they can show their friends and families the fruits of their labor.
Brad Furman (The Lincoln Lawyer, The Infiltrator) directed the movie, which had a script by actor-turned-screenwriter Christian Contreras. Here's the film's official synopsis:
Based on the true story of one of the most notorious and unsolved cases in recent memory, CITY OF LIES is a provocative thriller revealing a never-before-seen look at the infamous murder of The Notorious B.I.G. shortly following the death of Tupac Shakur. L.A.P.D. detective Russell Poole (Johnny Depp) has spent years trying to solve his biggest case, but after two decades, the investigation remains open. "Jack" Jackson (Forest Whitaker), a reporter desperate to save his reputation and career, is determined to find out why. In search of the truth, the two team up and unravel a growing web of institutional corruption and lies. Relentless in their hunt, these two determined men threaten to uncover the conspiracy and crack the foundation of the L.A.P.D. and an entire city.