Hayao Miyazaki's Next Movie Is Still 3 To 4 Years Away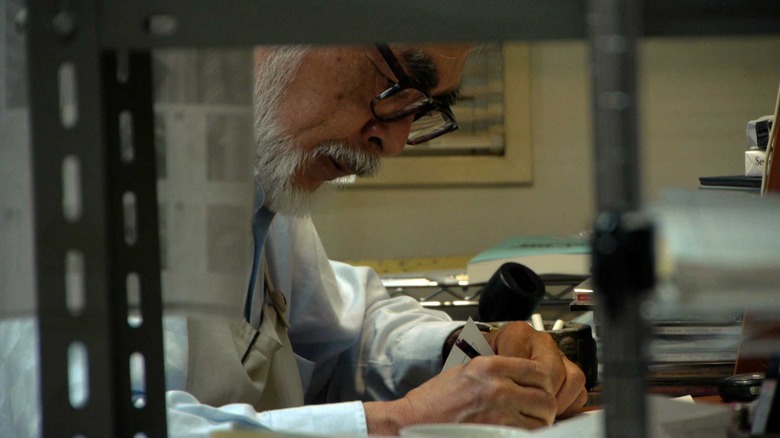 When Hayao Miyazaki comes back from retirement (again), he's going to do it right. The animation legend has long had his hands in every detail of his productions, but as he nears 80, you would perhaps expect him to take it easy or slow down just a little. Nope. He's been dubbed "The Never-Ending Man" for a reason, and this famously perfectionist filmmaker will take as long as he needs to complete his next movie, titled How Do You Live? Even if that means we have to wait another three to four years for it.
Are you ready to be spirited away by Miyazaki's next movie? Well, you'll have to hang around for three to four more years while the legendary Japanese filmmaker works diligently on Kimi-tachi wa D? Ikiru ka, which roughly translates to How Do You Live?
Miyazaki stated last October that he wouldn't make his intended deadline before the 2020 Olympics in Tokyo, and now Studio Ghibli producer Toshio Suzuki (who helped found the studio alongside Miyazaki and Isao Takahata) confirms that it will be "about three or four years" before How Do You Live? is completed. The film has already been in production for two years, but Suzuki also told Anime News Network that the studio is doing things in How Do You Live? that it could not do before.
Miyazaki is just coming off the release of his 3D-animated short Boro the Caterpillar, which debuted at Studio Ghibli museum in March. Up until then, the filmmaker has been notoriously anti-computer animation, once calling an experiment featuring AI CG animation an "insult to life itself." All of his feature films have always been meticulously hand-drawn — save for 15 minutes of CG animation in 1997's Princess Mononoke — with Miyazaki himself drawing up much of the key animation. But with Miyazaki coming around to 3D animation with Boro the Caterpillar, I have an inkling that How Do You Live?, with its "never been done before" techniques, could be Miyazaki's feature-length experimentation with 3D animation. That could perhaps be why the production has been extended so much — that technology is definitely not yet available at a traditional animation studio like Ghibli.
Based on Genzaburo Yoshino's 1937 novel of the same name, How Do You Live? is a fantasy adventure film that centers around a 15-year-old boy named Koperu, who moves into his uncle's house after his father's death and undergoes a journey of spiritual growth. Suzuki revealed that the film is a very personal story, telling Japanese network Asahi, "Miyazaki is making the new film for his grandson. It's his way of saying 'Grandpa is moving on to the next world, but he's leaving behind this film.'"
Miyazaki first pitched the feature film in 2016, and despite not receiving the green light, began working on it immediately, completing 20 minutes of storyboards through the first year. At his meticulous pace, it's no wonder Miyazaki needs three to four more years, especially on a project as personal as this.
You can expect to see How Do You Live? sometime in 2021 or 2022.