'Kidding' Trailer: Jim Carrey Heartbreakingly And Hilariously Goes Completely Insane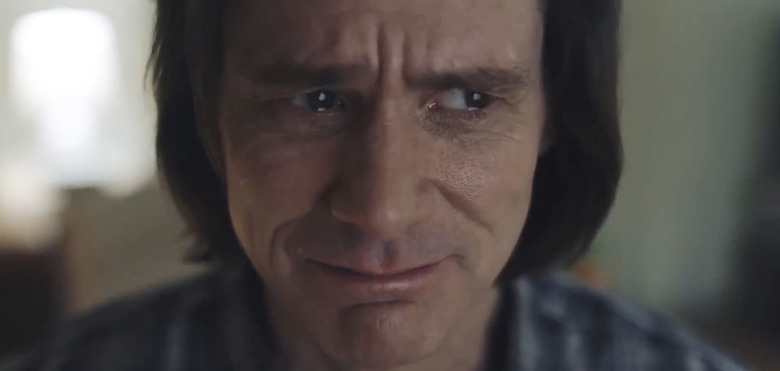 In recent years, Jim Carrey has been much more focused on the kind of art he can paint or sculpt as opposed to the work he puts on the big screen. Since starring in Eternal Sunshine of the Spotless Mind, the actor has only delivered a couple praiseworthy performances, but now, in his first television regular role in over 20 years, Jim Carrey looks to be delivering something truly special and remarkable.
Kidding is a new Showtime series starring Jim Carrey as Mr. Pickles, the host of an iconic children's television series known for bringing warmth and kindness into American's households. But behind Mr. Pickles is Jeff, a totally regular dude who is slowly starting to lose his mind as his life completely falls apart. And as the new Kidding trailer illustrates, it looks darkly funny and heartbreaking.
Watch Showtime's Kidding Trailer
Perhaps what's bringing out the best in Jim Carrey is the fact that every episode in this series, created by Weeds writer Dave Holstein, is directed by Michel Gondry, the brilliant French filmmaker behind Eternal Sunshine and Be Kind Rewind. You can even feel his unique aesthetic in the vibe of the children's television show hosted by Jim Carrey's character.
Kidding feels very loosely inspired by Fred Rogers and his television program Mr. Rogers' Neighborhood. But as anyone who saw Won't You Be My Neighbor this summer will tell you, Fred Rogers never experienced this kind of nervous breakdown, so that inspiration was likely only used as a starting point. However, there are little inspirations here and there, such as the kid in the hospital asking Jeff how he got out of the television, a real question Mr. Rogers received several times when meeting kids in real life.
Meanwhile, the rest of the cast looks outstanding as well,with Judy Greer delivering a depressing dose of reality, and Frank Langella trying to keep the slowly deteriorating sanity of Jeff intact for the sake of the show. Plus, Get Out star Catherine Keener has some kind of supporting role in the series as well. For more, you can watch the first trailer right here.
Here's the official synopsis for the series:
In his first series regular role in over two decades, Jim Carrey stars as Jeff, aka Mr. Pickles, an icon of children's television, a beacon of kindness and wisdom to America's impressionable young minds, who also anchors a multimillion-dollar branding empire. But when Jeff's family begins to implode, he finds no fairy tale or fable or puppet will guide him through the crisis, which advances faster than his means to cope. The result: a kind man in a cruel world faces a slow leak of sanity as hilarious as it is heartbreaking.
Kidding premieres on Sunday, September 9 at 10pm/9pm CT only on Showtime.