Pop Culture Imports: Unlikely South Korean And Indian Romances, A Familiar Swedish Sci-Fi Series, And Netflix's Newest Anime Anthology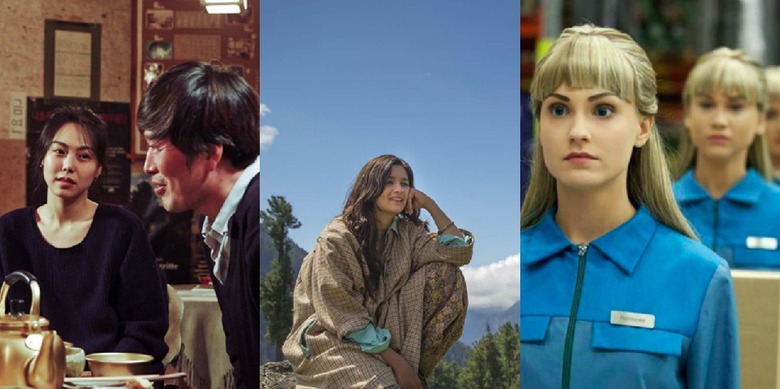 (Welcome to Pop Culture Imports, a column that compiles the best, wackiest, and weirdest foreign-language movies and TV shows streaming right now.)
A new month, a new batch of foreign movies and TV shows to please the ears and eyes! That's right, subtitle lovers, it's time for a new Pop Culture Imports, in which we all huddle inside during the hottest month of the summer to watch the best new foreign movies, dramas, animes, and everything in between. This week, we have a reversed Korean romance, an unlikely Indian love story, a quirky Japanese sci-fi, a familiar Swedish sci-fi series, Netflix's newest anime anthology film.
So let's fire up the subtitles and dive into the best foreign movies and shows streaming now.
1. Right Now, Wrong Then – Fandor
Country: South KoreaGenre: RomanceDirector: Hong Sang-sooCast: Jung Jae-young, Kim Min-hee, Youn Yuh-jung, Gi Ju-bong, Choi Hwa-jung, Yoo Jun-sang, Seo Young-hwa, Go Ah-sung.
A chance encounter between a self-important film director (Jung Jae-young) and a shy artist (Kim Min-hee) turns into a day ambling down the frigid streets of a rural South Korean town, and awkward flirting over sushi and soju. But small moments and mistakes along the way cause ripple effects that are great enough to split this budding romance into two diverging stories — the "wrong then, right now," of the title so to speak. You see, Right Now, Wrong Then is not a single movie, it's two. The first half of the film shows the grim reality of the meet-cute: a flattering remark that comes back to bite the director, a secret that dooms the blossoming romance just before it can begin, and a farewell that turns sour. But unexpectedly mid-way through the movie, the story starts over again, this time with a rosier revamp. Individually, the two parts don't quite stand on their own, but together they deliver one of the most strangely profound cinematic depictions of a romance you could experience. Although describing what actually happens in this film couldn't take longer than two minutes, Hong Sang-soo's subtle, affable voyeurism lends Right Now, Wrong Then an elegant authenticity.
Watch This If You Like: Lost in Translation, Once, Before Sunrise, Sliding Doors, obsessively creating elaborate alternate realities in your head in the shower.
2. Highway – Netflix
Country: IndiaGenre: DramaDirector: Imtiaz AliCast: Alia Bhatt, Randeep Hooda, Arjun Malhotra, Saharsh Kumar Shukla, Pradeep Nagar.
Like all the best open roads, Highway takes you down some twists and turns you don't quite expect. Imtiaz Ali's sweeping tale of an abduction that blossoms into a romance could have turned into a contrived cautionary tale, but instead delivers a lyrical character drama. Highway follows a spoiled industrialist's daughter Veera (Alia Bhatt) who, on the night before her wedding, persuades her timid fiancé to go on a midnight drive to escape the suffocating wedding preparations. When they stop at a gas station on the way back, Veera is suddenly kidnapped by petty criminals. After her abductors panic upon finding out who her father is, Veera's initial abductor Mahabir (Randeep Hooda) declares that he will go through with a ransom, dragging Veera throughout the country with his small group of cohorts to escape capture.
But here's the giveaway: Hooda's brooding, righteously angry Mahabir is obviously movie-star hot, and the film's tense crime beginnings give way to an unlikely romance. However, Highway is more than a glamorized depiction of Stockholm Syndrome: Veera's charming free spirit turns out to be perfectly suited to life on the road, chipping away at Mahabir's barriers while the two bond over shared childhood abuses. The unlikely love story is sold by Bhatt and Hooda, whose chemistry is off the charts. Bhatt in particular is a star, balancing her character's idiosyncratic quirks with a raw vulnerability. And amidst the beautiful northern Indian landscapes, captured with a sublime touch by director Imtiaz Ali, Highway (for better or for worse) feels like it could stretch on forever.
Watch This If You Like: On the Road, Y Tu Mamá También, cozy woven scarves that you can still buy as the movie's merchandise.
3. Before We Vanish – Hulu
Country: JapanGenre: Science-fictionDirector: Kiyoshi KurosawaCast: Masami Nagasawa, Ryuhei Matsuda, Mahiro Takasugi, Yuri Tsunematsu, Hiroki Hasegawa.Before We Vanish takes an unusual approach to the apocalyptic sci-fi film: instead of seeing it from the point of view of the helpless humans, we follow three aliens who have been sent to Earth to prepare for a mass invasion. Taking possession of human bodies and robbing them of their ties to the world, the aliens cut a bloody swath through Japan as they seek to reunite with their new knowledge of the human race. But the impending apocalyptic doom is surprisingly broken up by moments of levity, irreverence, and genuine emotional connection — resulting in an eccentric hodgepodge of a sci-fi movie. To tell the truth, Before We Vanish feels like three completely different movies in one, each promising a different kind of ending than the unexpectedly touching one that we receive. One alien takes the form of a teenage girl (Yuri Tsunematsu), massacring her family in a gory opening scene that denotes a horror movie that never comes. The second alien (Mahiro Takasugia) is dropped into an absurd road comedy, teaming up with a beleaguered journalist who becomes his unwitting guide. And the third finds himself in the body of a cheating husband (Ryuhei Matsuda) whose suffering wife (a standout Masami Nagasawa) finds herself teaching him to care about humanity. Before We Vanish is a little weird, a little treacly, and a little atonal, but Kurosawa's sci-fi film ends up being a surprisingly touching portrait of the human condition.Watch This If You Like: Seeking a Friend for the End of the World, Good Omens, Hitchhiker's Guide to the Galaxy, offbeat apocalyptic comedies masquerading as horror.
4. Real Humans – Hulu
Country: SwedenGenre: Sci-fi seriesCreator: Lars LundströmCast: Leif Andrée, Eva Röse, Lisette Pagler, Kåre Hedebrant, Marie Robertson, Pia Halvorsen, Andreas Wilson, Johan Paulsen.
You may be familiar with the AMC series Humans, or at least, with its chilling poster of an immaculately coiffed Asian woman with chilling green eyes. Not human, the poster seems to suggest. Dangerous robots coming to kill us all, it seems to further suggest (this was what I assumed, having not seen the show). But did you know that Humans was based on a Swedish sci-fi series that came only a few years before it? And remarkably, the robots depicted in this Swedish series are even less human than the beautiful bots that populate the AMC show — rocking pasty, plastic-looking skin, unnatural hair, and bright blue eyes. This is just one of a few of the significant differences between Humans and Real Humans, the Swedish predecessor. But the largest difference is that Real Humans plays more like a kitschy horror than the gritty drama of Humans, which helps to set it apart from the crowds of other sci-fi series released every day. Sunny and artificial, Real Humans has stronger roots in The Stepford Wives than it does Blade Runner, making its abrupt moments of violence and brutality all the more shocking.
Watch This If You Like: Humans, Dollhouse, Ex Machina, getting your robot revolution fix while waiting for Westworld to come back.
5. Flavors of Youth: International Version – Netflix
Country: JapanGenre: Anime anthologyDirector: Jiaoshou, Haoling Li, Yoshitaka TakeuchiCast: Taito Ban, Mariya Ise,Takeo Otsuka, Ikumi Hasegawa, Minako Kotobuki, Haruka Shiraishi,Hiroki Yasumoto.
If Haruki Murakami made an anime movie, it would probably look a lot like Flavors of Youth. But trade the incessant mentions of cats for decadent depictions of food. This is an anime anthology film that you shouldn't watch on an empty stomach — it's even in the title, after all. An experimental Chinese-Japanese project from the studio behind last year's global mega-hit (and one of the favorite films of yours truly) Your Name, Flavors of Youth is divided into three separate segments directed by Chinese directors Jiaoshou and Haoling Li, and Japanese director Yoshitaka Takeuchi. And though these segments were not directed by the acclaimed Your Name director Makoto Shinkai, they each feel like spiritual successors to Shinkai's ponderous coming-of-age films. Each "chapter" tells a story about growing up in China and facing the trials of adulthood, all revolving around one precious childhood item (or favorite dish). Loaded with ennui and stunningly life-like animation, Flavors of Youth is a feast for the eyes, even if the stories are sometimes lacking in ingredients.
Watch This If You Like: 5 Centimeters Per Second, Only Yesterday, watching 5-hour loops of all the food scenes in Studio Ghibli movies.