Tessa Thompson And Ruth Negga To Star In Rebecca Hall's Directorial Debut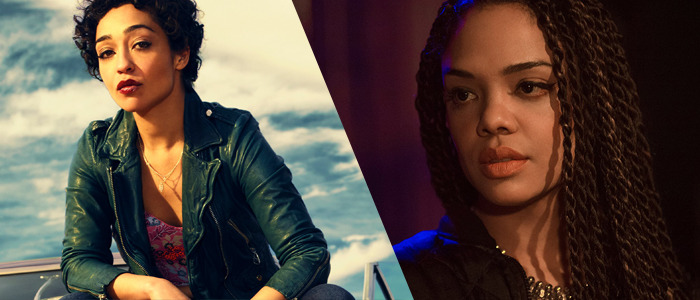 We may receive a commission on purchases made from links.
Actress Rebecca Hall broke out in 2006 in Christopher Nolan's The Prestige, and she's quickly developed a strong career collaborating with talented filmmakers, learning the ropes from the inside. Now she's ready to make her directorial debut with an adaptation of a 1920s novel called Passing, which deals with the idea of racial passing – posing as a member of one racial group when you're actually part of another. That's a topic that's still as relevant now as it was in the '20s, and Hall has locked down two excellent actresses to star in the project: Tessa Thompson (Sorry to Bother You) and Ruth Negga (Preacher).
Learn more about the Passing movie adaptation below.
Deadline broke the news about Hall's feature directing debut, which is based on author Nella Larsen's 1929 novel of the same name. Here's the synopsis of the book from Amazon:
Clare Kendry [Negga] is living on the edge. Light-skinned, elegant, and ambitious, she is married to a racist white man unaware of her African American heritage, and has severed all ties to her past after deciding to "pass" as a white woman. Clare's childhood friend, Irene Redfield [Thompson], just as light-skinned, has chosen to remain within the African American community, and is simultaneously allured and repelled by Clare's risky decision to engage in racial masquerade for personal and societal gain. After frequenting African American-centric gatherings together in Harlem, Clare's interest in Irene turns into a homoerotic longing for Irene's black identity that she abandoned and can never embrace again, and she is forced to grapple with her decision to pass for white in a way that is both tragic and telling.
This sounds like a complex and fascinating story, and the two actresses in the lead roles seem like terrific fits for their respective parts. Negga, who's portrayal of Tulip O'Hare is consistently one of the best aspects of AMC's Preacher, recently earned an Oscar nomination for the period drama Loving, and Thompson can really knock a project out of the park when she has the right script to work with. Hall wrote this film's screenplay, and Passing seems like a very personal project for her. Here's what she said in a statement:
"Nella Larsen's Passing is an astonishing book about two women struggling not just with what it meant to be black in America in 1929, but with gender conventions, the performance of femininity, the institution of marriage, the responsibilities of motherhood, and the ways in which all of those forces intersect. I came across the novel at a time when I was trying to reckon creatively with some of my personal family history, and the mystery surrounding my bi-racial grandfather on my American mother's side. In part, making this film is an exploration of that history, to which I've never really had access."
Angela Robinson, who recently directed Hall in last year's Professor Marsden and the Wonder Women, is on board Passing as an executive producer. Hall has been leading up to this for a while, taking small steps on the way to the director's chair. Last year, she produced a film called Permission and learned even more about the process of making a movie from the inside out, so I'm curious to see what the summation of all her experiences is when Passing eventually hits theaters.