Robert Redford Is Going Through With That "Retiring From Acting" Threat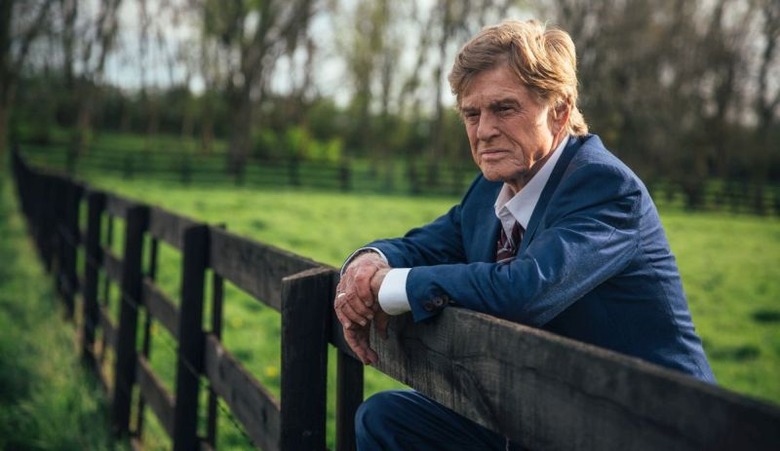 Robert Redford is going out with a bang. Because what better way to cap off a 58-year career that contains some of the all-time classic roles and movies in cinema history? But it's a bang that he's been planning for quite a while now, since he first announced his intention to retire back in 2016. Now Redford can officially announce that he's retiring from acting following his final role in the aptly titled drama, The Old Man & The Gun.
Redford is pulling off one last job, both on screen and off screen. On the screen, he'll be playing a real-life elderly career criminal whose string of heists enchanted the public and baffled police in the '70s. And off screen, he'll be hanging up his coat and prop gun for a life beyond acting. On paper at least, David Lowery's The Old Man & The Gun feels like a perfect swan song for Redford's legendary cinematic career. And it seems like Redford believes so too, confirming to Entertainment Weekly that after The Old Man & The Gun hits theaters, he'll be officially retired from acting.
"Never say never, but I pretty well concluded that this would be it for me in terms of acting, and [I'll] move towards retirement after this 'cause I've been doing it since I was 21. I thought, Well, that's enough. And why not go out with something that's very upbeat and positive?"
It's Redford making good on a 2016 announcement that was considering retirement from acting. "I'm getting tired of acting," Redford had said. At the time, Redford had only two projects ahead of him, the upcoming The Old Man & The Gun, and the 2017 film Our Souls at Night. With those out of the way, Redford can finally follow through with that 2016 announcement.
So what next? Directing, Redford said, or sketching, possibly. Redford has made quite a career as a director, first helming the Oscar-winning Ordinary People in 1980. However, he hasn't helmed a film since 2012's The Company You Keep, in which he co-starred opposite Shia LaBeouf. But, to be honest, the 81-year-old Hollywood legend could kick back and do nothing for the foreseeable future — he's already built one of the most iconic careers in cinematic history, starring in countless classics from Butch Cassidy and the Sundance Kid to All The President's Men. Redford had his breakout role with a gun in his hand, it's only fitting that he'll wrap up his near-60-year career with a gun in hand.