'Maniac' Trailer: Cary Fukunaga's Netflix Series Send Emma Stone And Jonah Hill Into A Trippy Multi-Mindverse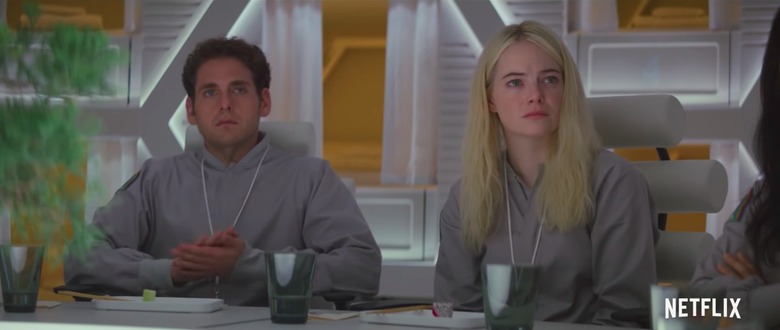 From the mind of True Detective season 1 director Cary Fukunaga comes a new mind-bending series starring former Superbad co-stars. Emma Stone and Jonah Hill reunite in a Netflix limited sci-fi series that is (literally) worlds away from the 2007 raunchy comedy that helped launch both Oscar darlings' careers.
In the offiial Maniac trailer, the two play strangers who meet at a mysterious pharmaceutical trial and end up navigating a weird, wild multi-mindverse that runs the gamut of alternate realities, from Lord of the Rings-esque adventures to Jazz Age society soirees.
Maniac Trailer
"Do you know where you are right now?"
Thus begins the eerie trailer for Fukunaga's limited Netflix series loosely based on a Norwegian series of the same name. But the official trailer is far from the ominous tone poem of a teaser that Netflix dropped last month. Instead, we get a wild taste of the dazzling alternate realities that Annie Landsberg (Stone) and Owen Milgrim (Hill) experience as they enter a cryptic pharmaceutical treatment created by the shady Dr. James K. Mantleray (Justin Theroux).
First they're dropped into a Jazz Age lounge, donning the most glamorous of outfits, then they find themselves the parents of a struggling working-class family (complete with Hill in a gloriously bad mullet), then a medieval fantasy world. Each time, they find their ways back to each other, despite the scientists' attempt to pull them apart. Through it all, they're just as confused as us about their jaunts through these multiple realities, or "some multi-reality brain magic shit," as Stone's Annie remarks.
The trailer delivers eye-popping visuals and a psychedelic story that recalls Noah Hawley's FX series Legion mixed with Charlie Kaufman and Michel Gondry's Eternal Sunshine of the Spotless Mind. But let's not forget that Fukunaga is a talent all to his own — he brought a sumptuous decadence to the first season of True Detective, which was sorely missing by the time the second season of the HBO series rolled around without him. And it looks like he'll make a gonzo return to television with Maniac.
Here's the official synopsis for Maniac:
Set in a world somewhat like our world, in a time quite similar to our time, Maniac tells the stories of Annie Landsberg (Emma Stone) and Owen Milgrim (Jonah Hill), two strangers drawn to the late stages of a mysterious pharmaceutical trial, each for their own reasons.  Annie's disaffected and aimless, fixated on broken relationships with her mother and her sister; Owen, the fifth son of wealthy New York industrialists, has struggled his whole life with a disputed diagnosis of schizophrenia. Neither of their lives have turned out quite right, and the promise of a new, radical kind of pharmaceutical treatment—a sequence of pills its inventor, Dr. James K. Mantleray (Justin Theroux), claims can repair anything about the mind, be it mental illness or heartbreak—draws them and ten other strangers to the facilities of Neberdine Pharmaceutical and Biotech for a three-day drug trial that will, they're assured, with no complications or side-effects whatsoever, solve all of their problems, permanently. Things do not go as planned.
Maniac will hit Netflix this fall on September 21, 2018.