'Brick' Parody Addresses 'The Last Jedi' Controversies Using Imagery From Rian Johnson's First Film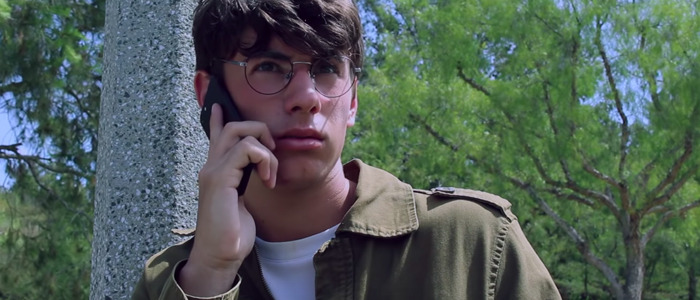 In 2005, Rian Johnson burst onto the indie film scene with Brick, a stylish film noir inspired by the writings of author Dashiell Hammett (The Maltese Falcon). 12 years and several films later, Johnson released Star Wars: The Last Jedi, the most divisive film in the franchise thus far.
Now a group of fans has created a short film that ties those two projects together – a fan film shot in the style of Brick (using many of its same exact locations) but directly addressing some of The Last Jedi controversies, like Kelly Marie Tran being driven off of Instagram and that idiotic Last Jedi remake that vocal fans promised to make. Check out Star Wars: Revenge of the Incels below.
Star Wars: Revenge of the Incels
Written by Dana James Jones and Dominic Flores and directed by Jones, this short goes to great lengths to recapture key details from Brick, from the a capella recreation of Nathan Johnson's moody, memorable score to lead actor Evan Brown's posture, always hunched over in the same way actor Joseph Gordon-Levitt was when he played Brendan in the original film. This thing is packed with dozens of references to Johnson's movie (including many of the same exact camera shots), but the supporting cast of characters has been swapped with people like J.J. Abrams replacing Brain, Phil Lord and Chris Miller replacing Dode, and Kathleen Kennedy replacing Kara.
The writing is full of funny nods to all of the extracurricular activity surrounding the Star Wars franchise, and the whole short is tailor made for film lovers who both A) have seen Brick, preferably enough times to recognize all of the callbacks and B) have a deep knowledge of all of the behind-the-scenes Star Wars drama. Basically, this thing is made for /Film readers.
"Really, why we wanted to do this parody is because I think we were tired of people taking it (Star Wars) so seriously," Jones told the San Clemente Times. "It's a movie; you can't take a movie like Star Wars that seriously. People are saying 'Rian Johnson ruined my childhood.' It's ridiculous."
"If you haven't seen Brick, it can seem confusing, but it's a very niche thing," he said. "We basically only made it for Rian because we knew he was the only one who would get what we're doing."
So what does Johnson think? Naturally, he approves:
Ok. This is... amazing. https://t.co/ZiP9bvsLww

— Rian Johnson (@rianjohnson) August 3, 2018
I love this so much.
Great job @danajamesjones & team.
(Also, next score: nothing but whistling?) https://t.co/MEHC5bmnog

— Nathan Johnson (@NTJohnson) August 4, 2018
The actor playing Brendan definitely has a better jacket and a better haircut than I did. Bravo to all involved, my jaw was on the floor. https://t.co/46MqSYYGqi

— Joseph Gordon-Levitt (@hitRECordJoe) August 4, 2018
Meanwhile, Jones shared some behind the scenes photos on Twitter:
Here's some behind the scenes shots. pic.twitter.com/FmYGt4A9TZ

— DΛNΛ JΛMΞS JONΞS (@danajamesjones) August 3, 2018
Congratulations to Jones and his team for making such an ingenious short.