'Sharp Objects' Inches Us ''Closer'' To The Truth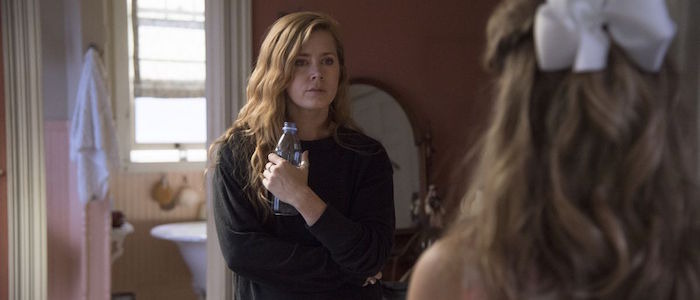 "Closer," last night's episode of Sharp Objects, dropped a shoe that we've been waiting to see fall since Camille first arrived in Wind Gap, Missouri. Her article about the dead girls of Wind Gap has been published, and while her angelic editor (he calls her "cubby" – can you think of anyone less suited to a nickname like "cubby" than Camille Preaker?) is thrilled at the hits they're getting, the reception in Wind Gap is a little less than warm. And, in keeping with Camille's tradition of bad timing, her no-punches-pulled exposé goes live on the worst day possible.
"Today celebrates what is unmovable about this place."
Sharp Objects has long examined the unromantic underbelly of the Southern Gothic myth, laying bare the racism and abuse beneath the glamour. But "Closer" makes the strongest statement yet that Wind Gap is a broken place, a castle made of ill-gotten ivory "before anyone knew what 'endangered' was." We finally see this Calhoun Day Adora's been obsessing over for weeks, and it's...bleak. Though Confederate flags are draped on every surface, Camille tells Richard that, "We don't use the C-word here" – because, like Adora's ivory floor, Wind Gap's residents are taught to ignore the ugly reality below the shiny surface.
The holiday – which doesn't appear in Gillian Flynn's novel and was invented for the purpose of the show – celebrates the history of noble Confederate martyr Millie Calhoun, who was raped and burned alive by Union soldiers yet refused to reveal the location of her Rebel husband. Calhoun Day's very existence is racist, of course, made doubly so by Adora's uniformed maid Gayla being forced to wait on these drunk white people in their giant hats. But even removing the problematic Confederate romanticizing from the proceedings, you're left with yet another woman whose story belongs to Wind Gap. Millie Calhoun joins Ann Nash, Natalie Keene, Marian Crellin and Camille herself as a woman whose only reason for being is to feed the relentless gossip machine of Wind Gap. Her brutal rape and murder are play-acted onstage every year to a crowd of noisy revelers. Amma's dropping Molly and eating up the attention as the star of the show. Like Ann and Natalie, Millie's death is fetishized but not respected.
"There's things about her you don't know. Watch yourself."
The relationship, if you can call it that, between Camille and Richard is developing somewhat, but their flirtation never feels entirely wholesome. Richard makes her smile, and Christ, does Camille deserve a smile, but she makes such a small part of herself available to him, cringing in horror when he enters her home and speaks to her mother. There's rarely been a character as fiercely guarded as Camille Preaker; she hides her skin, her history, her alcoholism, her abuse. (And what an unsettling but somehow unsurprising revelation that the drama teacher with whom Amma shared such a creepy moment last week is one of Camille's childhood abusers.)
Richard gets a small taste of Camille's upbringing when Adora asks him to remove his shoes before walking on her holy floor, but no one but Camille and perhaps Amma truly understands the depths of Adora's cruelty. Amma is such a twisted character, manipulative and wildly dynamic, swinging from needy compassion to spite in moments, but whatever else we're led to believe of Amma – and the past couple episodes have given us some reason to suspect her in Ann and Natalie's downfall – I do believe she and Camille share a unique bond in being raised by the malicious and self-obsessed Adora. Amma says it best, when she asks Camille to stay and Camille responds that she's not sure she can. "If I can, you can."
"Oh, you've made me bleed. Both of you."
Patricia Clarkson's making a bid for all-timer villain status on this show. Her deportment and posture are so precise, her delivery so elegant, her words so profoundly cutting. "Closer" makes several references to Adora viewing her daughters as roses: delicate, rare, "but not without thorns." She treats them as such, like she grew them to show off the way she shows off that floor or the (admittedly amazing) hand-painted silk wallpaper from Paris. Despite her histrionics when Amma goes missing, it's hard to believe there's any real, genuine affection there, just the affection a sociopathic child has for her pretty doll. But we don't have to guess how Adora feels about her "ruined" oldest daughter, because she tells her – and she tells her in the cruelest manner possible, in the one moment we've ever seen Camille let her guard down around her mother. Adora shrewdly invites Camille to have a drink on the veranda, apologizes softly for her behavior at the dress boutique, offers a gentle understanding of Camille's nature and then, just as gently, tells her, "that's, I think, why I never loved you."
Camille's not the only one who's let her guard down in the moments before Adora pulls that trigger – despite all of the vindictiveness we've seen from this woman, we just want to believe, even for a moment, that she's capable of being a mother. But she isn't. She's as her mother made her, and Amma and Camille are as their mother made them: delicate, rare, not without thorns.
***
Every episode of Sharp Objects opens with a different song, and this week was a mournful humming dirge, a lament for the last shred of Camille's hope that she could ever be loved by the woman who gave birth to her. EPs Amy Adams, Marti Noxon and Gillian Flynn and director Jean-Marc Vallée are cultivating a beautiful, lilting, mysterious show, but it's also brutal and toxic, a show that will hurt you again and again, that makes you want to tear your own skin off just to relieve the pressure. After all, Sharp Objects whispers to us, "the cut's already there under the skin. The knife just lets it out."