Edward James Olmos Has Been Cut Out Of 'The Predator', But He's Okay With That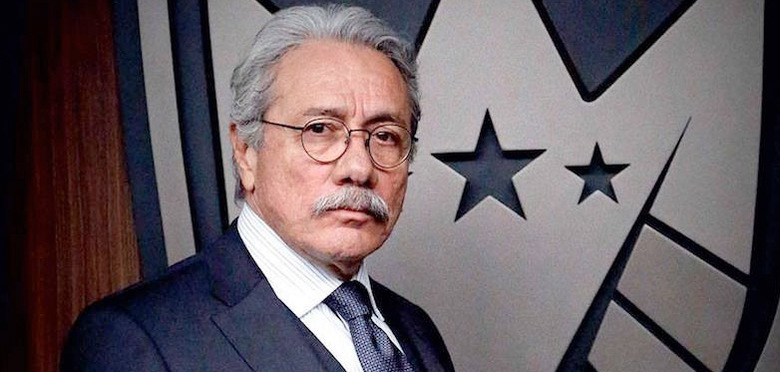 Edward James Olmos was cast in The Predator in March of 2017, however, as the September release date nears, the Battlestar Galactica star told /Film during the publicity rounds for his new FX show Mayans M.C. that he's been cut out of the movie entirely. The good news is that Olmos doesn't have any hard feelings about it, and cutting his character may turn out better for the movie.
The news of Edward James Olmos cut from The Predator came straight from the man himself. Olmos was said to play a military character, but the actor clarified that he would have played a four-star general, but ultimately his scenes weren't relevant to the story. "I'm not in the show though," Olmos said, "It was too long so my character, they had to take me out. They were like half an hour, 3/4 of an hour too long. So I understand why."
The final running time for The Predator is not locked, but the idea that they are trimming 30-45 minutes bodes well for the pace of the film. We're living in an era where the average Transformers film is closer to three hours than two, Marvel movies regularly exceed two hours and even the excellent Mission: Impossible – Fallout is nearly two and a half.
No Predator film has yet exceeded two hours, and with a good 30-45 minutes chopped out, The Predator could follow suit. Plus, there are already so many characters in this movie, there probably just wasn't room for all of them. Director Shane Black surely had to make some tough calls. Thankfully, Olmos understood, "It was gracious of them to call me and tell me, 'Hey, we really feel bad,' you know?"
Hollywood is rife with stories of big actors cut out of major movies, from Kevin Costner in The Big Chill to Shailene Woodley in Amazing Spider-Man 2. Then there's Adrien Brody realizing The Thin Red Line was no longer about him at the film's premiere. The role Olmos played was probably never intended to be a central role, but it's still disappointing that he won't be making an appearance.
The cast is still quite full with Jacob Tremblay as the kid who encounters some Predator tech. Plus, Jake Busey plays the son of his father Gary Busey's character from Predator 2. Meanwhile the rest of the ensemble includes Sterling K. Brown, Boyd Holbrook, Olivia Munn, Keegan-Michael Key, Yvonne Strahovski, Thomas Jane, and more. And you can find out more about what you can expect from the movie by checking out our San Diego Comic-Con coverage right here.
See if everyone else makes the cut when The Predator opens September 14, 2018.