'Mile 22' Clip And Featurette Remind You That 'The Raid' Star Iko Uwais Can Kick Your Ass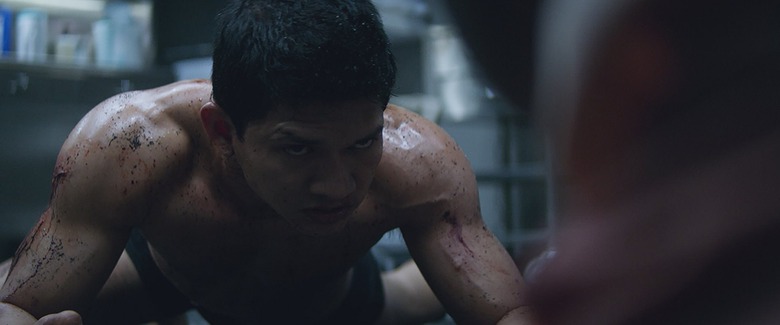 The marketing team behind Mile 22 is running full-speed ahead with new clips and featurettes. Perhaps they realize that they're opening in the shadow of Mission: Impossible – Fallout or perhaps Migos isn't as big of a draw as they hoped. Whatever the case, the latest Mile 22 clip gives us a glimpse of what we're really watching this movie for: Iko Uwais.
The star of the cult Indonesian film, The Raid, Uwais is a both an acting and a martial arts powerhouse, and a new Mile 22 clip and featurette prove that this is still the case.
Mile 22 Clip
The brutal Mile 22 clip shows Uwais' Li Noor, a CIA informant who is attacked by henchmen posing as medical professionals. Though cuffed and half-naked, he is still able to fend them off using his martial arts prowess, and some good old-fashioned quick thinking.
It's an intense and visceral scene that is punctuated by Uwais' powerful hits and fast movements — which I wish I could see more of. The scene's flow is interrupted by rapid cuts and edits, which would make sense for a Hollywood actor with little fighting experience, but this is Uwais we're talking about — a steady camera and fewer cuts would only elevate Uwais' skills as a performer. Uwais is a longtime martial artist and stuntman highly trained in the Indonesian fight style of pencak silat — a skill that the accompanying Mile 22 featurette makes sure to spotlight.
Mile 22 Featurette
Yes, Iko Uwais can kick all of our asses. And he honestly deserves more for his first major Hollywood role than Mile 22. But if the movie itself is as good to him as this featurette is, then perhaps Mile 22 could be the perfect vehicle to make Uwais a household name. Or at least get more people to watch The Raid and The Raid 2.
Mile 22 is directed by Peter Berg and stars Mark Wahlberg, Lauren Cohan, Ronda Rousey, and John Malkovich.
Here's the official synopsis for Mile 22:
In a visceral modern thriller from the director of Lone Survivor, Mark Wahlberg stars as James Silva, an operative of the CIA's most highly-prized and little-known unit. Aided by a top-secret tactical command team, Silva must transport an asset (Iko Uwais) who has vital information to a Southeast Asian airfield for extraction before the enemy closes in. MILE 22 also stars Lauren Cohan, Ronda Rousey and John Malkovich.
Mile 22 opens in theaters on August 17, 2018.