Here's Your Chance To Help Fund A Documentary About 'The Last Blockbuster'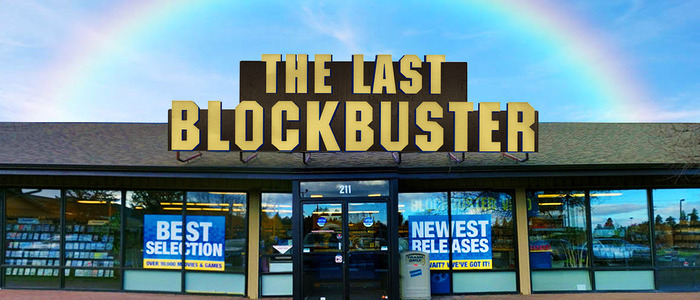 Remember Blockbuster Video? If you're younger than I am, there's a good chance you don't! But at one point in history, brick and motor stores dotted the land, offering customers an opportunity to rent video tapes (and later, DVDs and Blu-rays). Blockbuster Video was the reigning champion of franchised video stores, but the birth of streaming video all but killed the company off. Now, only one Blockbuster Video remains, and a Kickstarter aims to create a documentary about the final location: The Last Blockbuster.
As reported last month, a series of closures has turned a store in Bend, Oregon into the last Blockbuster Video in America. It's an ignoble end to what had once been the leading video store chain in the country. Now, an Oregon production company has launched a Kickstarter, with hopes of creating a documentary, described as "a light-hearted, family-friendly film on the last remaining Blockbuster Video outpost in the country." The Kickstarter campaign can be found here, where you can also watch a trailer.
"When we started working on this documentary last year there were about a dozen Blockbuster video locations still standing," said director Taylor Morden. "Now there is just one! As movie lovers and physical media enthusiasts, we took it upon ourselves to uncover the story of why? What makes Bend, OR. and this store in particular so special? It's a fun and uplifting story and frankly we think the world needs more stories like that these days."
The production is hoping to raise $20,000 to make the film. As the Kickstarter states, "making feature-length documentaries is expensive – very expensive. Legal, travel, – oh, and late fees... lots and lots of late fees." Something else to consider: the clock is ticking. Like an endangered species with no protections, the final Blockbuster might vanish from the planet sometime very soon.
"The Last Blockbuster is located in idyllic Bend Oregon, a modern town overflowing with high-speed internet, a mecca for outdoor adventure enthusiasts. There's plenty to do year round," the Kickstarter campaign states. "How, in a place like this, does The Last Blockbuster Survive? Who are the people who work here, rent videos here, and how did a video rental store chain grow so huge that it impacted the way Hollywood made movies only to crash and burn from 9000 locations to 1?"
Perhaps it's nostalgia, but I have to admit I'm kind of fascinated by this. I know Blockbuster was a chain video store, and thus wasn't nearly as good as smaller independent stores that had a much better selection. But I have fond memories of heading to Blockbuster video and perusing the shelves (usually in the horror section), looking for something to rent. Sure, streaming has made this process far more convenient. But there was something special about browsing shelves, unsure of exactly what you were going to find.