Vin Diesel's 'Bloodshot' Casts 'New Girl' Star Lamorne Morris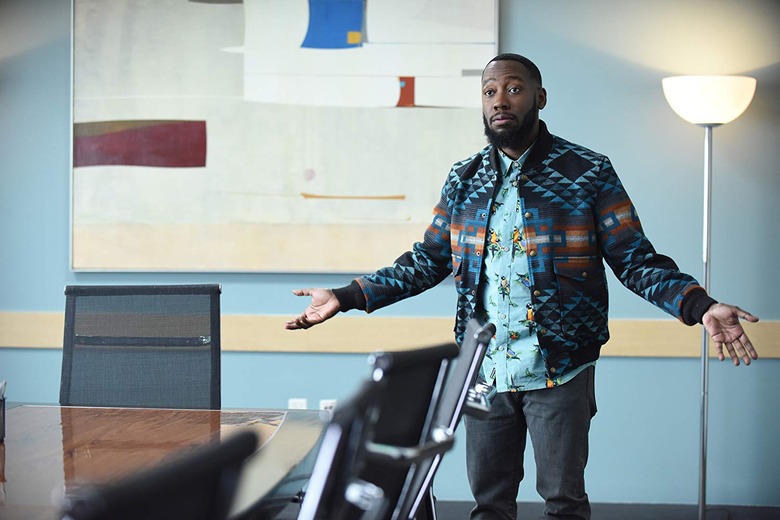 Lamorne Morris — AKA Winnie the Bish, AKA the best character on New Girl — has just joined the Bloodshot cast. Morris will be starring opposite Vin Diesel in the feature film adaptation of the Valiant comic book.Deadline reports that Morris has been cast in Sony's superhero sci-fi action film as Wilfred Wigans, a young scientist who becomes Bloodshot's unlikely ally.
The actor, who recently appeared in the wildly funny Warner Bros. comedy Game Night, will join a packed cast that includes Eiza Gonzalez, Sam Heughan, Talulah Riley, Alex Hernandez, and Toby Kebbell. Vin Diesel headlines the superhero flick directed by Dave Wilson from a script by Oscar-nominated Arrival screenwriter Eric Heisserer.
Based on the Valiant comic book created in 1992 by Kevin Van Hook, Don Perlin, and Bob Layton, Bloodshot follows mortally wounded soldier Ray Garrison (Diesel), who is resurrected with cutting-edge nanotechnology but suffers memory loss from the process. Given the task of rounding up super-powered outcasts known as "harbingers," Bloodshot struggles to reconnect with his identity while learning what sort of weapon he has become with the help of a group of other augmented combatants.
Here is the synopsis for the Bloodshot comic series per ComicVine:
Bloodshot is a former soldier with powers of regeneration, technomancy and meta-morphing made possible through nanites injected into his blood. After escaping from his masters at Project Rising Spirit, Bloodshot seeks to discover his true identity and other purpose besides killing.
If the first film is a success, Morris is signed on for two more films, according to Deadline. So it seems that Sony has plans for Bloodshot to be a three-film franchise at the least, or at the very least, a launchpad for the Valiant Comics cinematic universe.
Morris recently appeared in this year's surprise critical hit Game Night, but he's probably best known for his role as Winston Bishop in the Fox comedy New Girl for seven seasons. Morris was a comedic revelation in that show, stealing many a scene with his absurd, irreverent performance as the cat-loving, color-blind ensemble member with a few screws loose in his head. But while Morris has shown to have spectacular comedy chops in New Girl and Game Night, he hasn't been tested in a big action blockbuster like Bloodshot. Though while his resume suggests he'll be more comic relief than anything, I look forward to seeing Morris stretch his action chops a little. Show us a little of that brown lightning, Morris!