John C. Reilly And Steve Coogan Are Unrecognizable As Classic Comedy Icons In 'Stan & Ollie'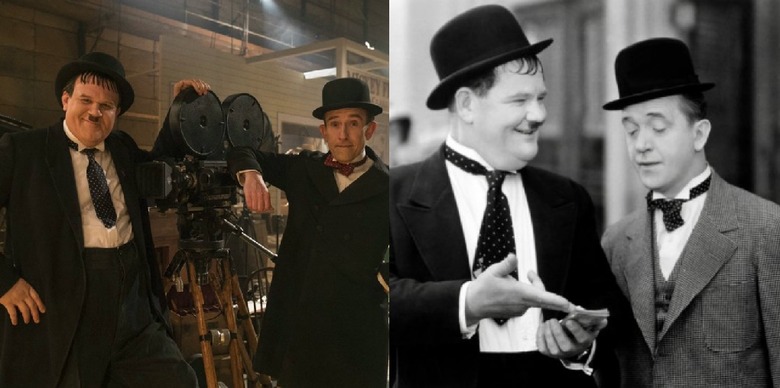 Laurel and Hardy, is that you? The classic Hollywood comedy duo were icons of slapstick comedy from 1927 to 1950, and it seemed like no one could replicate the magic of the legendary pair. But Steve Coogan and John C. Reilly come pretty close — at least in appearance.
Coogan and Reilly star as Stan Laurel and Oliver Hardy, respectively, in the upcoming biopic Stan & Ollie. And in the Stan & Ollie first look, the actors look like near-carbon copies of Laurel and Hardy, right down to Hardy's little fringe.
Stan and Ollie First Look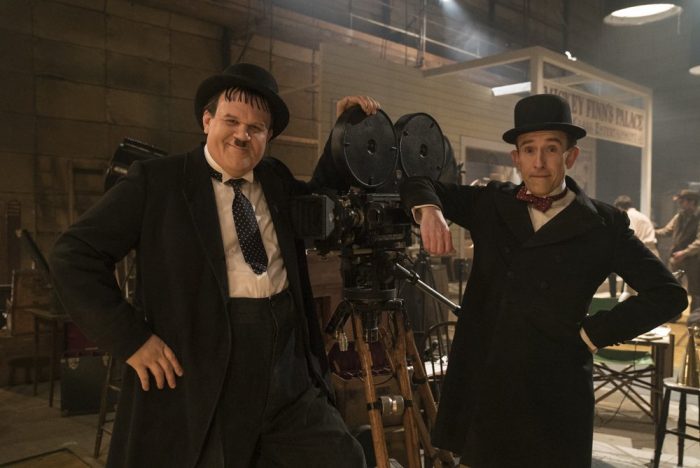 Stan & Ollie is a biopic directed by Jon S. Baird and written by Jeff Pope that will take place in the twilight years of Laurel and Hardy's careers, as the duo combat their dwindling fame on a farewell tour in 1953. But this first image from Stan & Ollie (photo by Aimee Spinks via the British Film Institute) suggests a look at the duo's comedy prime, with Coogan and Reilly donning the signature disheveled suits that Laurel and Hardy famously wore in most of their films.
It's in line with the film's synopsis, which describes the pair's struggles in the present as they deal with the "spectre" of the past:
The story centers on Laurel & Hardy, the world's favorite comedy double act, who set out on a variety hall tour of Britain in 1953. Diminished by age and with their golden era as the kings of Hollywood comedy now behind them, they face an uncertain future.
As they set out, crisscrossing the country, attendances are disappointingly low. But they've always been able to make each other laugh and as the charm and beauty of their performances shines through their audiences laugh too, and they re-connect with legions of adoring fans, old and new.
The tour becomes a hit, but Laurel & Hardy can't quite shake the spectre of Stan and Ollie's past; and long buried ghosts, coupled with Oliver's failing health, start to threaten their precious partnership. A portrait of their creative marriage begins to unfold as the duo, aware that they may be approaching their swan song, try to rediscover just how much they mean to each other.
Stan & Ollie, which will be released by BBC Films, will have its world premiere at the BFI London Film Festival. The BFI also announced that Stan & Ollie will be this year's Closing Night gala film. There will be simultaneous preview screenings of Stan & Ollie in cinemas across the U.K.
"I'm really proud to be able to give the film its world premiere in London; a city that's so dear to myself and I know was to Stan Laurel and Oliver Hardy," Baird said. "Stan & Ollie, at its heart, is a love story between old friends, who just happen to be two of the most iconic comedic characters in Hollywood's history."
Stan & Ollie does not yet have a U.S. release date.