Han Solo's Jacket From 'Empire Strikes Back' Can Be Yours For Only $1.3 Million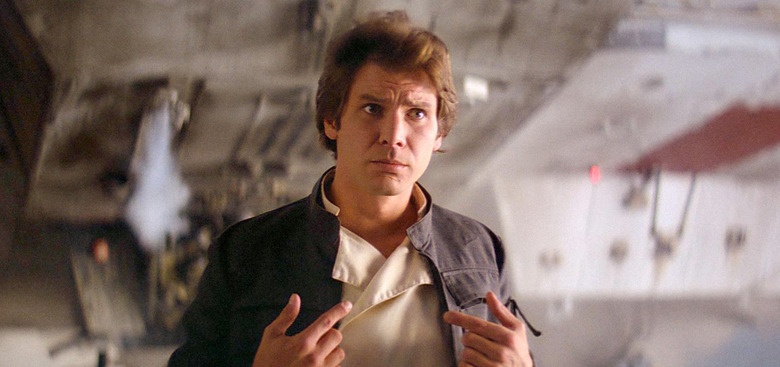 The world of collectible movie props is a lucrative business, but as we learned in the wake of an Iron Man helmet being stolen from a storage facility in Southern California, it can also be a shady business. However, there are also plenty of legitimate sales happening in broad daylight thanks to auction houses around the world. And one of them is about to bring one of the coolest yet simple jackets to the auction block from a galaxy far, far away.
Han Solo's navy blue jacket worn by Harrison Ford in The Empire Strikes Back will be up for auction in the United Kingdom, and the wardrobe item worn on screen is expected to snag $1.3 million
Empire Strikes Back Han Solo Jacket Auction
If the jacket looks like it's lighter in color than what you see in the image from The Empire Strikes Back above, your eyes aren't playing tricks on you. As costume designer John Mollo explains, the jacket is deliberately a blue-grey color because dark blues tend to appear black on film, and for that reason, a garment intended to read as blue needs to be made in a lighter color.
Apparently, this is the only significant Han Solo costume piece from the original trilogy ever to come to public auction, and since the character is such an icon, it comes as no surprise that this is going to fetch a lot of money. And even though this jacket is decades old, it has been conserved by noted textile conservationists Janie Lightfoot & Co. and displays only minor instances of loose threading and minimal wear as a result of production use.
London Prop Store has the item in their auction lot, and it will go up for sale on September 20. So if you don't have $1.3 million lying around, you better hit the Sabaac table. Or if you're in the market for some cheaper Star Wars collectibles, the auction house has plenty of other items from the sci-fi saga that will be up for sale as well. Check out their whole assembly of items that will be up for sale at the London Prop Store website.