'Christopher Robin' Won't Be Released In China Amid Censorship Crusade Against Winnie The Pooh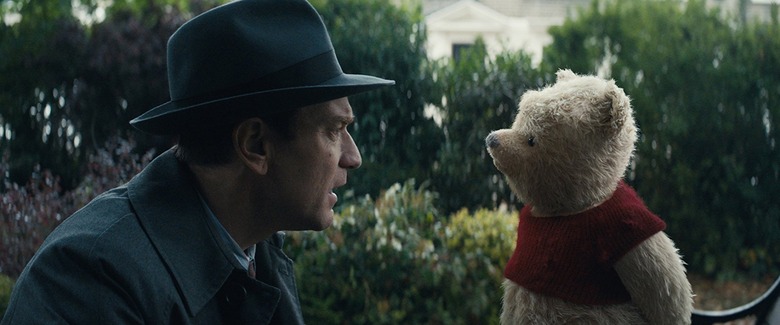 Just when you thought 2018 couldn't get any stranger, Winnie the Pooh has become a polarizing political figure...in China? And it's not because of his lack of pants, nor his habit of stealing honey from bees (what's up with that, Pooh!), but because he apparently has a striking resemblance to the President of the People's Republic of China, Xi Jinping. Because of that, a Christopher Robin China release has been denied by the country, as the Chinese government cracks down on all images of the silly old bear.
Disney has been denied a Chinese release for Christopher Robin, according to The Hollywood Reporter, making this the second Disney film rebuffed by the country's film authorities this year after A Wrinkle in Time.
But while an official reason wasn't given, the denial of Christopher Robin has much darker political implications than you would think for a family film about a honey-loving bear. A source told THR that the denial was due to China's crackdown on images of Winnie the Pooh, which has become a lightning rod of controversy on social media. Yeah, scoff all you want, but that is actually true.
Last year, China's censors began cracking down on images of Winnie the Pooh due to the character's supposed resemblance to Chinese President Xi Jinping. Dissenters of the Communist Party had been using the plump, portly character to mock Xi ever since an image of comparing Xi to the beloved children's icon began circulating in 2013. But this year, Xi's term as president was extended indefinitely following a ruling that removed term limits from the Chinese Constitution, and Chinese censors began to keep a more watchful eye on any online chatter deemed "subversive." That includes, yes, Winnie the Pooh.
In June, Chinese authorities even blocked HBO after Last Week Tonight host John Oliver poked fun at Xi's sensitivity over the comparison to the cartoon bear.
So essentially, a political meme has blocked a Chinese release of Christopher Robin. It's not the weirdest thing to happen in the year of our lord 2018, but it is certainly up there. To give credit to Disney, there's no way they could have known about the political intrigue surrounding Winnie the Pooh when the Marc Forster-helmed film was greenlit in 2015 and began production in 2017. But it is a bummer that Chinese audiences won't get to experience the whimsical magic of Christopher Robin — even if they would have likely cut up the film for more political memes.
Christopher Robin is now playing in U.S. theaters.