'Lizzie' Trailer: Chloë Sevigny And Kristen Stewart Deconstruct The Story Of Lizzie Borden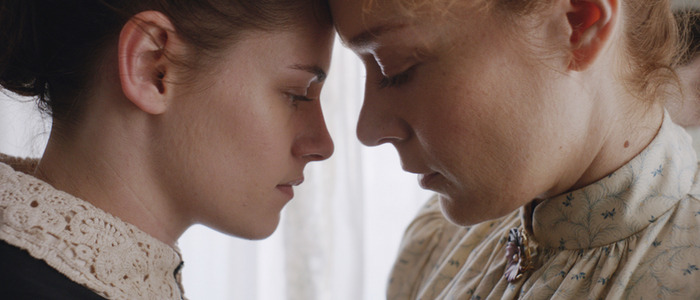 The story of Lizzie Borden is re-imagined with a twist in Lizzie, a film from The Boy and Channel Zero director Craig William Macneill. Chloë Sevigny plays the infamous woman who was accused of hacking her father and step-mother to death with an axe, and Kristen Stewart plays the family maid, Bridget Sullivan. Watch the Lizzie trailer below.
Lizzie Trailer
You likely know the crude nursery rhyme:
Lizzie Borden took an axe
And gave her mother forty whacks.
When she saw what she had done,
She gave her father forty-one.
Of course, this isn't quite accurate (what nursery rhyme is?). Lizzie Borden's step-mother only received 17 blows from an axe, while her father received around 10 or 11. On August 4, 1892, Andrew Borden and his wife Abby were found brutally murdered in their home in Fall River, Massachusetts. Almost immediately, evidence began to pile up suggesting Borden's daughter Lizzie committed the deed. Lizzie was eventually put on trial – a trial that got a huge amount of media coverage. And while it was almost painfully clear she had done the deed, the jury ultimately acquitted.
Now, Craig William Macneill – who helmed the excellent indie horror film The Boy, and directed the fantastic first season of Channel Zero – attempts to deconstruct the story with Lizzie. The film imagines a relationship between Lizzie and the Borden family maid, Bridget Sullivan, who was the only other person in the house when the Borden's were murdered. Is any of this accurate? It's impossible to say, but Macneill's film seems more concerned with trying to explain why – why did this crime happen? If Lizzie really did it, what drover her to this act?
Chloë Sevigny plays Lizzie, while Kristen Stewart plays Bridget, and boy oh boy is this some great casting. Everything about this movie looks just right, and the new trailer is appropriatley unnerving and hypnotic. This is at the top of my must-see list. Lizzie played at Sundance, where it garnered somewhat mixed reviews. Our own Ben Pearson liked it though(look for his quote in the trailer), writing:
While the film's eventual depiction of the murders is especially brutal, the fact that it depicts a woman fighting back against her oppressors and the catharsis that comes with it is another element that feels directly tied to our current post-Weinstein climate.
Lizzie, which also stars Jamey Sheridan, Fiona Shaw, Kim Dickens, Denis O'Hare and Jeff Perry, opens on September 14, 2018.
Academy Award nominee Chloë Sevigny (Boys Don't Cry, "Big Love") stars as Lizzie Borden, the notorious woman at the heart of one of the most enduring mysteries in American history. After a lifetime of loneliness, Lizzie finds a kindred spirit in housemaid Bridget Sullivan (Kristen Stewart) and their secret intimacy sparks an unthinkable act. Director Craig William Macneill (The Boy (2015), "Channel Zero: Candle Cove") explores the days leading up to the savage crimes in a dark tale of repression, exploitation and thwarted dreams.