NBC Not Interested In The 'Frasier' Reboot, But It Might End Up Somewhere Else [TCA 2018]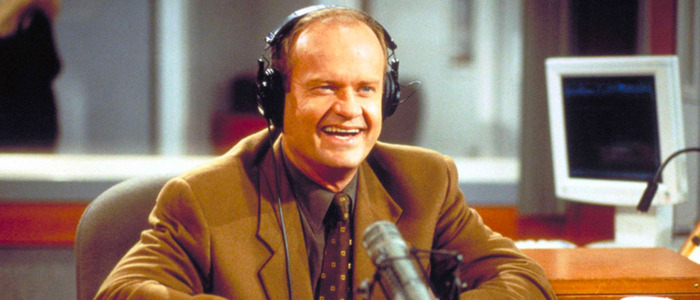 TV reboot fever has finally extended to spin-offs of beloved '80s sitcoms! But to be fair, Frasier was beloved in its own right after spinning off from Cheers. Just a week after news of a Frasier reboot broke, Kelsey Grammer was on a Television Critics Association panel for his Fox midseason drama Proven Innocent. After the panel, he spoke with reporters about the Frasier reboot reported last week. We learned that it might not be on NBC, how many episodes Grammer is willing to do, and just how firm these plans really are.
NBC May Pass
Frasier aired on NBC after Cheers ended its run on the same network. NBC is currently enjoying success with its Will & Grace revival, but Grammer says Frasier might not end up there.
"I think NBC may not be interested," Grammer said. "It just might go somewhere else if that were the case."
Netflix hosts the revivals of Full House and Arrested Development, and Hulu rescued The Mindy Project from cancellation. A new Frasier would shop around, but could very well end up on a streaming service.
"Possibly," Grammer smiled.
Where We Last Left Frasier
In Frasier, Psychiatrist Frasier Crane (Grammer) left Boston for Seattle, where we met his father (John Mahoney) and brother Niles (David Hyde Pierce). The series finale saw Frasier leave his radio call-in show for a new city, but the world is his oyster for a new potential series.
"It's all talk at this point," Grammer said. "He left for Chicago when he was [in Seattle] in the last show. We have no idea what happened to him after that."
Why not go back to where everybody knows your name?
Frasier was first introduced on Cheers as Diane's new fiance, as a foil to Sam Malone . When Long left the show, Grammer remained and Frasier became one of the regulars.
Grammer sounded open to the possibility of a Cheers revival too, but has less say in that matter. He was an executive producer on Frasier.
"The idea of a Cheers reboot is something else that has crossed people's minds, but I'm not in charge of that," Grammer said.
No Abbreviated Frasier
Many of the comedies that have returned have had shorter order seasons. Both the previous and upcoming seasons of Will & Grace have under 20 episodes. Roseanne only had nine and the spinoff The Conners will have 10.
Grammer would be down for a full 22 episode season of Frasier again.
"Honestly, the work is great once you start doing it," Grammer said. "Multicam is fantastic. You have a great life and you have a good career at the same time. There'd be nothing wrong with doing a full blown season if that were the case. We just have to make sure it's going to be a great show. If it's not a great show, if we don't hear a pitch that really hits it out of the park, it probably won't happen."
Talk of a Frasier reboot may be pretty bold when Grammer has a new show that hasn't even launched yet. Proven Innocent is an hour long legal drama on Fox. The first season will occupy much of Grammer's time, and if it's a hit, it could keep him busy indefinitely.
Grammer trusts the powers that be to figure out his schedule. If they do, he'll show up.
"Certainly, networks have decisions to make about stuff like that but I don't believe in exclusivity," Grammer said.
How Close Is It?
Last week, Deadline reported that these were early talks. Grammer was meeting with writers to see if he heard a take he liked. Grammer himself confirms as much.
"It's in the early stages," Grammer said. "I have a wonderful life. I've played Frasier for 20 years. It might happen again, it might not. He was a wonderful character to play. I don't miss him necessarily because I'm playing some great stuff now so I'm having a lot of fun."
Just like launching new series, Grammer only has one requirement for doing a show, Frasier or otherwise. "If it's going to be a really great show, that's all," Grammer said.
What We Think
Television revivals have been more than just nostalgia fuel. They've presented quite clever opportunities to explore classic characters in modern times. The Roseanne reboot even had a great way to address divorced families (David and Darlene), economic competition from undocumented workers, health insurance and more, despite its star's real world political expression.
Frasier is a character who could have a lot of fun with the modern world. When we last saw Frasier Crane, smart phones weren't prolific yet. Imagine uptight Frasier Crane dealing with dating apps, or giving patients advice on how to text with someone they can't converse with in real life.
A visit to Boston and Cheers would be swell, but by now the Frasier supporting characters are just as beloved. We hope Niles and Daphne (Jane Leeves) are still together and happy. We've lost Mahoney, so a loving tribute to his memory could take place. Is Roz (Peri Gilpin) still doing the same show in Seattle?
Grammer's talks are still early, but the possibility of where Frasier Crane could be in 2018 or 2019 are intriguing enough to have us excited.