Daily Podcast: Mailbag, Peter Gets Locked Out, Tom Cruise, Crazy Rich Asians, Andy Serkis' Animal Farm, Men In Black, & Avengers: Infinity War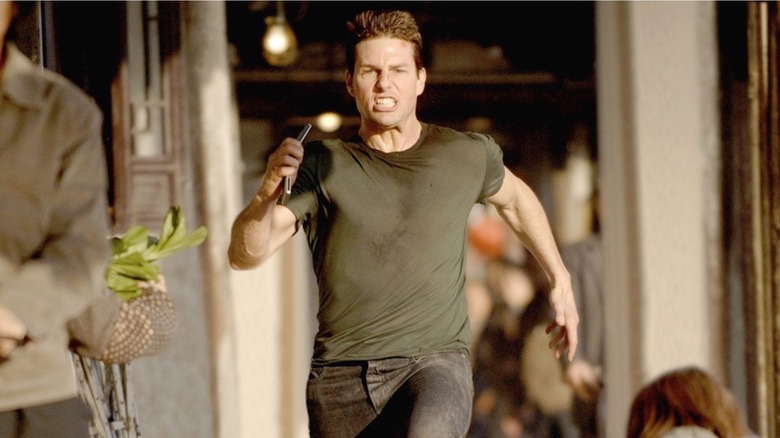 On the August 2, 2018 episode of /Film Daily, /Film editor-in-chief Peter Sciretta is joined by senior writer Ben Pearson and writer Hoai-Tran Bui to have a brief water cooler discussion, dig into the mail bag and discuss the latest film and TV news, including Tom Cruise, Crazy Rich Asians, Andy Serkis' Animal Farm, Men in Black, and Avengers: Infinity War.You can subscribe to /Film Daily on iTunes, Google Play, Overcast, Spotify and all the popular podcast apps (here is the RSS URL if you need it).
Water Cooler Quickie:
Peter got locked out of his house
In The Mail Bag:
Leanne R writes in "Just
wanted to give a short defense of the RunPee app. I actually have a friend who is a girl and she notoriously would take bathroom breaks (at least two) during films and I would get so annoyed at having to recap it for her whenever she got back, but the Run Pee app actually helped our moviegoing experiences.
I personally would never use the bathroom during a packed screening of a film I've never seen and I don't like missing scenes in a film generally, but I think for people who value their bladders and don't mind skipping some parts of a film to relieve themselves, it's quite useful. Would recommend!"
Matt B from Tacoma, WA writes in "Just wanted to drop a line to let you know that
RunPee is a fantastic app. I understand that not all people need it for the Pee portion, however the Run in RunPee is a small part that recaps the first 3 minutes of the film in case you are "Running" late
. The Pee side is their main focus and the timer you were speaking of gives you a direction to start the timer, something like "as the Sony logo fades, start the timer". There are usually two to three peetimes listed, one of them being marked as the ideal peetime. Where there is no major dialogue or plot importance, but they do a great job in summing up the short 3-5 minute exposition in a few sentences that you can read on the walk to or from the restroom.  
The best part about that app that is not promoted is they also include whether or not there is anything post credits.
If there is they will give their opinion as to the importance of sticking around or not and if it lies during or after the credits
with a brief, spoiler-free synopsis.   Thanks for the great podcast and please don't injure yourself at Comic-Con.  PS Give HT and Chris a raise. They're great!!!"
Drew from Houston, TX writes in "I just wanted to throw in my two cents regarding movie theater trash. I worked at a pretty nice theater in Oklahoma back in 2010-2011.
We always had people dedicated to cleaning the theaters. We would walk every row and sweep up trash. I don't think it's awful for people to leave trash on the ground as long as it's easy to sweep, like candy wrappers and pieces of popcorn. Drinks left in the cup holders would be disposed of by our workers.  However – people can be really gross and rude. Almost every day there would be someone who would leave a cup of dip spit in the cup holder. Things like this would make me almost dry heave as I went to throw them away. If you throw your trash away, thanks for helping us out. If you don't, it's not a big deal unless it's gross. So please, don't be gross
."
Robert L writes in: "
I've been using Vudu's Disc 2 Digital and Movies Anywhere to convert my blu-rays to iTunes
, doing 3-5 movies a month to not impact my paycheck too much. Although
I find it has been worth it, this process has come with some disappointments
. The biggest being that
you can only get HD quality, even if that movie is available in 4K on iTunes
. Also,
some single discs are not eligible for Disc 2 Digital and most of all box sets are not eligible
. And of course,
you have to check to make sure the movie is in Movies Anywhere. Also you can only do 100 movies a year with D2D
.  In my goal to have most of my important movies in both disc and digital, I can usually wait for a movie to go on sale on iTunes for 5 bucks. I save those for movies that aren't eligible for MA & D2D, or if iTunes has a movie in 4K that is not available on UHD Blu-Ray.   tl:dr, Disc 2 Digital with Movies Anywhere only works with some movies and doesn't convert to a 4k version."
Michael from Kansas City writes in: "Big fan of all things SlashFilm.
Had to pause the podcast in utter shock when I heard you say you hadn't seen Deadwood.  To echo Chris' thoughts, not only is it among the best HBO series, the roles and performances are pretty much career bests for the entire cast
. It's no surprise they want back for another go.  Sets, plots, David Milch's never-better insane dialogue (much of which he rewrote day of)...this thing is the total package.  Will also add that
I initially kinda hated it. Saw the first episode air after Sopranos and wasn't in the mindset to receive it very well— was confused by the anachronistic cursing, thought Timothy Olyphant's acting was rough, and like you wasn't naturally drawn to the Western setting. But after the unrelenting insistence of a friend that this was a work of genius, I ended up going back and binging the DVD
's via Netflix (when that was a thing) and it immediately rocketed up near the top of my personal all-time TV series list.  So much so that I became a big Milch devotee, going on to check out "Murder One" the ill-fated "Luck," some old "NYPD Blue," and yes even an attempt at "John From Cincinnati" (which I can't recommend).  Long story short, I feel like I have to pay forward the kindness done by my buddy making me watch it by trying to get you to do the same. Even if it doesn't immediately hook you, stick with it. In the spirit of the show itself: The stubborn c***sucker truly holds many goddamn rewards.
James from England writes in "I love listening to the podcast, so keep it up, I'm not into magic myself, but I like all of you talking about what you're been up to, be it food, theme parks or anything in between, so don't let the haters put you down!   
Being from England I've heard you all talk about movie pass and now AMC A List and the potential ramifications you think it would have on people, but I've known that we have had Cineworld Unlimited since about 2008
(https://www.cineworld.co.uk/unlimited), so roughly 10 years now, this offers the ability to pre-book online and choose your seats as soon as tickets are available, discounts on food and drink, an unlimited amount of movies and after a year you can see 3D films with no extra cost too. After seeing 2 movies a month you've made your money back, so it's a great deal. It did encourage me to take a chance on movies I wouldn't have otherwise and also they have "Cineworld Unlimited" screenings, showing films before release where only card holders can go. You still get a mixed bag of people, some people talking / on phones, but that's just society now and the disrespect of others unfortunately.   We also have Odeon Limitless which I don't have experience of, but is a similar setup (https://www.odeon.co.uk/limitless/), so in England we've had this for years and it works great. People saying that A List would stop if movie pass stopped are crazy, it draws people into the cinema, which is ultimately what they want. Those using the pass will talk about the positives to their friends and families, spread the love of that chain, but also those movies, thus drawing more people to the cinema. It's win win really! Oh and Cineworld do family passes too, which I know haven't made it to the US yet. I just thought you might like to know that the US isn't the only place to have this going, the UK has this working successfully for years.   By the way, leaving your rubbish anywhere is rude and bad for society, it shows no respect to others, so if you have rubbish (including sweet wrappers), pick them up yourself at the end of the screening and put them in the bin. Would you dump them outside in the street knowing a road sweeper would come and get them and that's their job? No, at least I hope not, so clean up after yourselves! Keep up the great work on the podcast."
In The News:
HT: The More Tom Cruise Runs, The Better His Movies Do, According to Science
Ben: 'Crazy Rich Asians' Filmmakers Turned Down a Giant Payday From Netflix to Go Theatrical
All the other stuff you need to know:You can find more about all the stories we mentioned on today's show at slashfilm.com, and linked inside the show notes./Film Daily is published every weekday, bringing you the most exciting news from the world of movies and television as well as deeper dives into the great features from slashfilm.com.You can subscribe to /Film Daily on iTunes, Google Play, Overcast, Spotify and all the popular podcast apps (RSS).Please feel free to send your feedback, questions, comments and concerns to us at peter@slashfilm.com. Please leave your name and general geographic location in case we mention the e-mail on the air.Please rate and review the podcast on iTunes, tell your friends and spread the word!Thanks to Sam Hume for our logo.