'Cloverfield' Fan Film 'Megan' Centers On A Never-Before-Seen Character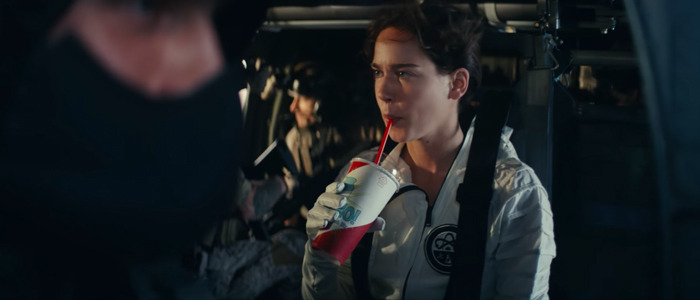 Paramount and Bad Robot's Cloverfield franchise took a dive in quality with this year's The Cloverfield Paradox, but the franchise isn't dead yet. We still don't know with certainty whether this year's WWII sci-fi thriller Overlord takes place in the Cloverfield universe, and producer J.J. Abrams has promised that a "proper" sequel is on the way.
In the meantime, though, a group of Hollywood filmmakers – VFX artists, cinematographers, writers, producers, and actors – have banded together to make a Cloverfield fan film set in that universe that focuses on a character that was referenced in the 10 Cloverfield Lane ARG campaign: Megan Stambler, the daughter of John Goodman's character. Check out the short film, entitled Megan, below.
Cloverfield Fan Film
Megan, which is described as "a tribute to Bad Robot's Cloverfield Universe," seems to be a passion project for many of the people who worked on Independence Day: Resurgence. Megan director Greg Strasz worked on Resurgence's visual effects (he also has credits on films like White House Down and It Follows), writer/producer Giuseppe Mercadante also worked on Resurgence's VFX, and cinematographer Markus Förderer served as Megan's director of photography. Writer/producer Jean de Meuron seems to be one of the few creatives here who doesn't have any association with Resurgence. The VFX company Gradient Effects is behind the visual effects for Megan, but they also helped produce and finance the project.Matilda Lutz (Rings, Revenge) stars as the title character, the daughter of Goodman's Howard Stambler, who worked as a telemetry analyst for Bold Futura, a subsidiary of a company called Tagruato that has played a significant role in all of the Cloverfield movie marketing campaigns. You can read much more about her character here.
The most obvious easter egg is that Megan clearly drinks a Slusho! beverage on the helicopter before it crashes. Slusho!, of course, is a fictional brand that has appeared in tons of Bad Robot productions; Rob, the main character in the first Cloverfield, was moving from New York to Tokyo in order to work for that company.
But the final shot includes another reference. In the super wide shot of the alien spacecraft hovering over the city, you can see smaller spacecraft floating underneath the mother ship. A ship that size was seen at the very end of 10 Cloverfield Lane, after Mary Elizabeth Winstead's Michelle finally breaks out of her underground prison.
Megan is being framed as a proof of concept video, so we'll have to see if Abrams and the Bad Robot team like this enough to invite these filmmakers in for a meeting. The Cloverfield franchise has always been unconventional, so the next movie being greenlit from a short film would not be remotely surprising to me.