'24' Spin-Off Is A Legal Thriller Set One Day Before An Execution, Was Originally Conceived During Season 3 [TCA 2018]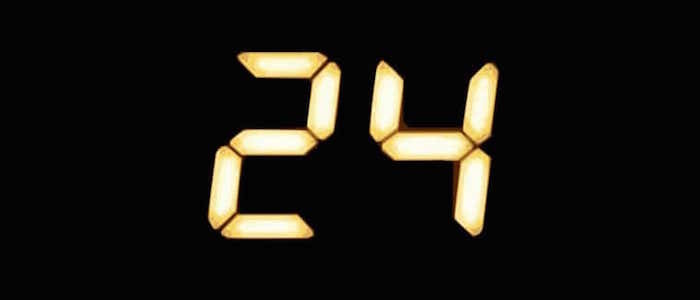 Earlier this week, The Hollywood Reporter broke the news that Fox was planning a 24 prequel series featuring a young Jack Bauer, the character played by Kiefer Sutherland for nine seasons in the show's original run. Today at the Television Critics Association press tour, Fox Television Group President and CEO Dana Walden confirmed this and announced a second 24 spin-off in the works, one that moves from the world of counter-terrorism to a courtroom. 
"The other is a whole new take on the franchise set in the legal arena," Walden said.
The Jack Bauer Prequel
During the executive Q&A, Walden's partner, Fox Television Group Chairman and CEO Gary Newman, elaborated on both versions of 24. First the prequel series, which would show that Jack Bauer was still working all nighters even before season 1.
"I think people love Jack Bauer and you would tell a story that I think the audience would very much connect with," Newman said. "How did that character become who he was. It would be set in the same world of security which I think continues to be very relevant."
During follow-up questions after the panel, Walden said she did not know how young they might cast the prequel's Jack Bauer. It will depend on the take creators Joel Surnow and Robert Cochran create, she said.
The Other 24 Spin-Off
The 24 legal drama would find a new ticking clock, one where the world is not at stake, but one life still is.
"The idea of moving that franchise from terrorism and security into the legal world is actually something we talked about probably as far back as season three or four when there would be discussions of spin-offs," Newman said. "You have to look for an arena where the stakes are high and time maters. That deals with an execution of a prisoner and there's just 24 hours left when the execution is supposed to take place. It potentially carries a lot of the same values you would have in the old 24. There are real emotional stakes involved."
24 ran for eight seasons beginning in 2001, then returned as the 2014 miniseries 24: Live Another Day. Fox tried to reboot the show with a new cast, but 24: Legacy only lasted one season. However, Fox is far from giving up on 24.
"We obviously love the show. the mechanism of telling a show set in real time is unique to 24," Newman said. "We think it still has a lot of power and a lot of legs. Really, ever since the show went off the air, we've talked about how do you re-imagine 24? The times are fraught now. These are emotional times. Security continues to be a big issue."