'Forever' Trailer: Maya Rudolph And Fred Armisen Try To Spice Up Their Marriage In Amazon Comedy Series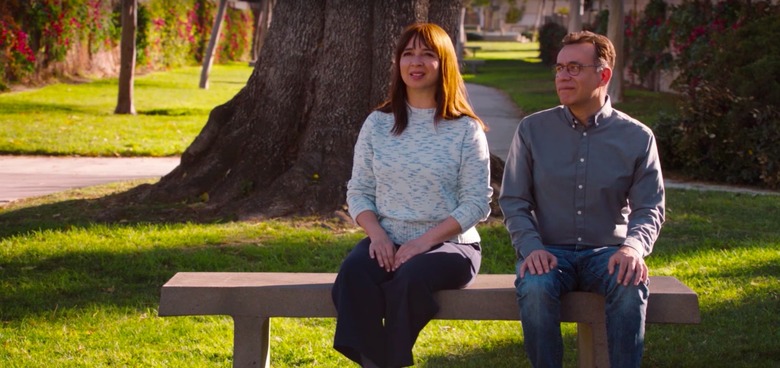 Maya Rudolph and Fred Armisen in a comedy series together? Say no more, we're already on board. Maya Rudolph and Fred Armisen in an Amazon comedy series from the writers of Master of None and Parks and Recreation? When can we see this right now, immediately?
We won't be able to see Forever until September, but Amazon has kindly given us a glimpse at the series in the first trailer.
Forever Trailer
Created by Emmy-winning writer Alan Yang of Master of None and Parks and Recreation fame and Matt Hubbard (30 Rock and Parks and Recreation), Forever has all the ingredients of the next great comedy series. And just watching the Forever trailer, I feel like I'm in comedy bliss even as Rudolph and Armisen's marital bliss takes a hit.
The series follows June (Rudolph) and Oscar (Armisen), a suburban couple in Riverside, California who have lived comfortably for 12 years having the same conversations, the same routines, the same meals, and the same vacations over and over. The trailer speeds through their decade-plus of marriage before taking us on a wild ride of hijinks that ensue after June asks Oscar to shake up their marriage. There's a beach bonfire that looks a bit cult-ish, a knife, a mysterious figure walking along the road, and more cryptic imagery that feels more ominous than comedic. But knowing Rudolph and Armisen, who both serve as executive producers on the series, things will get wacky real soon.
The cast of Forever is rounded out by Catherine Keener, Noah Robbins, and Kym Whitley.
Here is the official synopsis for Forever:
Married couple June (Maya Rudolph) and Oscar (Fred Armisen) live a comfortable but predictable life in suburban Riverside, California. For 12 years they've had the same conversations, eaten the same meals and taken pleasant vacations at the same rented lake house. But after June talks Oscar into shaking things up with a ski trip, the pair find themselves in completely unfamiliar territory. Forever is an utterly original, insightful and poignant comedy about love, commitment, and marriage, created by Emmy Award-winning writers Alan Yang (Master of None, Parks and Recreation) and Matt Hubbard (30 Rock, Parks and Recreation).
Forever premieres on Amazon Prime on September 14, 2018.