'Luz' Trailer: German Horror Film Is A Stylish Demonic Possession Movie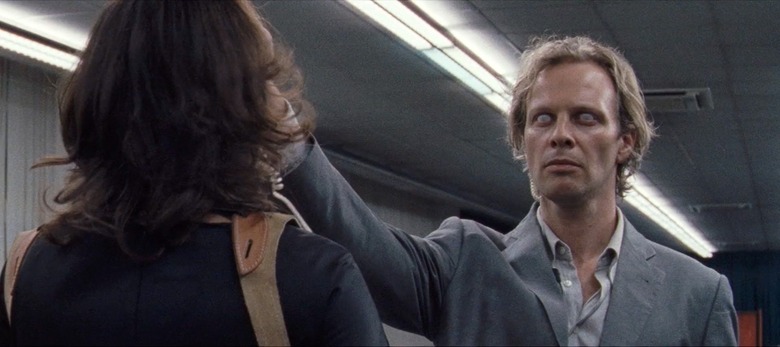 As far as graduate thesis films go, Luz goes above and beyond the curriculum. German writer-director Tilman Singer's debut film originally began as a film-studies thesis project, but had more than enough style and verve to escape into the real world. Luz is both a bold experiment in horror and a throwback thriller that calls back to the atmosphere that dominated '70s European horror. And after making a splash at Berlinale and the Fantasia International Film Festival, the first Luz trailer gives us a glimpse of the hypnotic horror film.
Luz Trailer
Singer's experimental horror film was shot on 16mm, harkening back to the '70s horror scene that paved the way for today's best demonic possession movies. But despite its retro aesthetic, Luz feels radical as hell. In Matt Donato's review of Luz at Fantasia Fest last month, he called the hypno-horror film "one freak-without-a-leash, non-conventional horror dive that grows stronger as unknowns pile up."
"Outside of a marketable boilerplate, Luz is a drop-dead satanic mindfuck that will kick in a few scenes too late for some audiences, but for those who withstand, this tempered room-askew puzzler brings to light a fresh mindset of horror. It's heady, ponderous, and everything existential in between," Donato continued.
As Luz continues to make its way through the festival circuit, it's picking up a healthy amount of buzz. Luz premiered at the Berlin International Film Festival 2018, and recently screened at the New Horizons International Film Festival and the Fantasia Fest, where it was picked up by the newly formed Yellow Veil Pictures. The horror film will next make its way to Spain as an official selection for the Sitges International Fantastic Film Festival. It will also play at Austin's Fantastic Fest next month.
Here is the official synopsis for Luz:
"A rainy night. A dazed and numb young cabdriver, Luz, drags herself into the brightly lit entrance of a rundown police station. Across town in a nightspot, Nora seductively engages police psychiatrist Dr. Rossini in a conversation. Nora is possessed by a demonic entity, longing for the woman it loves – Luz. She tells the Doctor about her old schoolmate Luz's rebellious past at a Chilean school for girls. Increasingly drunk on her story, Rossini turns into an easy prey in Nora's hands, but he's soon called away to the police station to examine Luz. Supervised by his colleagues, the doctor puts Luz in a state of hypnosis that initiates a series of flashbacks, unfolding the events leading to her arrival. But the entity that has taken control of the doctor wants something more. Bit by bit it slips into Luz' reenactment and makes old memories come to light."
Luz does not yet have a U.S. release date.