Paul Feig Will Direct 'The Sweetest Fig', Based On The Book From 'Jumanji' Author Chris Van Allsburg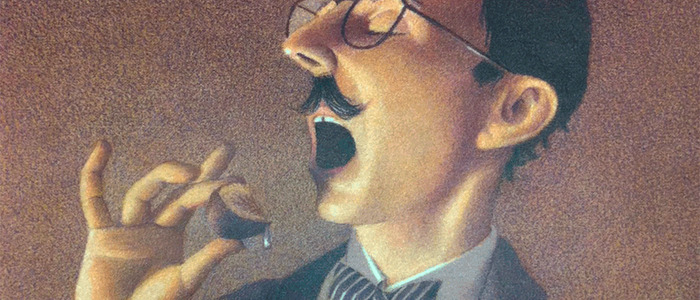 The Sweetest Fig? More like The Sweetest Feig! That's my terrible way of informing you that Paul Feig will adapt the Chris Van Allsburg book The Sweetest Fig to the big screen. This family film will be a bit a of departure for Feig, who has primarily helmed R-rated comedies.
Chris Van Allsburg is the author and illustrator of several gorgeous picture books. He's the guy who gave us The Polar Express, which was turned into a terrifying animated nightmare. He also wrote Jumanji, which was adapted into a very loud movie. That film's sequel, Jumanji: Welcome to the Jungle, was a box office hit. And whenever a film is a huge smash, studios start trying to emulate that success. Which means you can expect more Chris Van Allsburg adaptations on the horizon.
According to Deadline, the next Van Allsburg book to get the big screen treatment is The Sweetest Fig. Fox is distributing the film, and they want Paul Feig to direct. Feig primarily traffics in R-rated comedies (and the unjustly maligned Ghostbusters remake), and he has the comedic thriller A Simple Favor hitting theaters this year. The family-oriented The Sweetest Fig will be a departure for him, and I'm curious to see what he does with the material.
The Sweetest Fig is an absolute delight. It's the story of Monsieur Bibot, a smug dentist living in Paris. One of Bibot's patients can't afford to pay him in money, and instead gives him two figs. But these aren't just any ordinary figs – they're magic figs that have the power to make your dreams come true. Bibot thinks this is nonsense, but he takes the figs anyway. He eats one, goes to sleep, has a series of crazy dreams, and then wakes up to discover the dreams really did come true. Bibot plans to eat the other fig and dream about becoming wealthy, but things don't go according to plan. Marcel, Bibot's oft-mistreated dog, eats the second fig instead. And the next morning, Bibot wakes up and finds he's now inhabiting Marcel's body, and Marcel is inhabiting his. Take that, Bibot.
Like all Van Allsburg books, The Sweetest Fig is very short, which means the film adaptation is going to have to flesh things out considerably. There's enough room to grow here – the story is about surreal dreams becoming reality through magic, so you can turn that into anything. Still, I wonder how true to the book the film will be. Will the main character still be a complete jerk like he is in the story? And will the movie end with a nightmarish twist where he gets his just desserts? Probably not.
Van Allsburg's books are so wonderful not just because of the storytelling, but also due to his gorgeous illustrations. Anytime one of his books gets turned into a film, there's something lost in translation. But if a film adaptation inspires someone to go out and pick up the book, I suppose that's a good thing.