Jessica Chastain To Star In And Produce Action Movie 'Eve'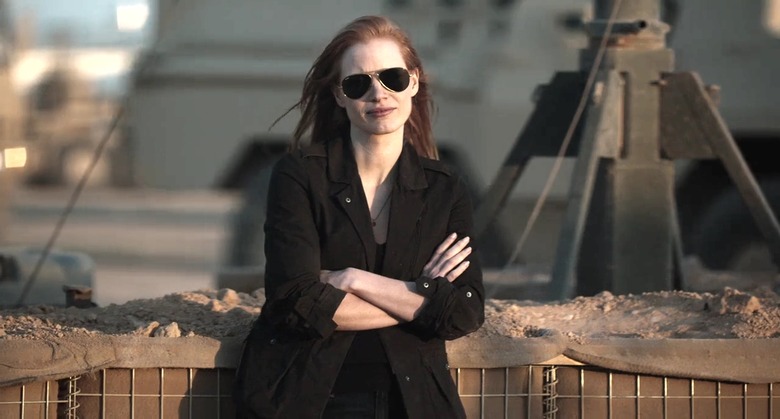 Jessica Chastain: action star. The Oscar-nominated actress will be starring in an action movie, Eve, under Voltage Pictures — her first action film since 2016's The Huntsman: Winter's War. But Chastain, who has become a vocal advocate for equal pay in Hollywood, will be stepping behind the scenes as well as a producer for Eve through her Freckle Films banner.
Chastain will be starring in and producing Eve for Voltage Pictures, according to The Hollywood Reporter. Eve will be directed by Matthew Newton, who has already penned the script for the "character-driven action film." In a statement accompanying the news, Newton said:
"I have always admired Jessica Chastain's work. So when I wrote Eve, an intelligent, strong, and incredibly capable character, she was my immediate first choice to bring her to life. I am humbled and thrilled to be collaborating with Jessica and Voltage on the film."
Chastain and Freckle Films' Kelly Carmichael, who will be producing alongside Nicolas Chartier and Dominic Rustam, also expressed their excitement for the film and Newton's work. "Matthew is wonderfully adept at crafting complex and relatable characters. We've been fans of his work and are so thrilled to be partnering with him and Voltage on Eve," Chastain and Carmichael said in a joint statement.
Plot details are under wraps, but Eve is described as a "character-driven" flick, with rumors suggesting that Chastain will be playing an assassin.
Chastain has proven to be one of the most versatile actresses today, jumping from prestige dramas, to horror, to sci-fi, and now finally, to action. She's dabbled in the action genre before with the poorly-received The Hunstman: Winter's War and will play a supervillain in the upcoming X-Men: Dark Phoenix, but now will fulfill all our dreams by taking on the lead role in an action film.
And Chastain's movement into producing is no surprise either. Chastain has taken steps to develop a female-driven spy movie, personally recruiting Marion Cotillard, Penelope Cruz, Fan Bingbing, and Lupita Nyong'o to star in the spy thriller 355. So it sounds like Chastain will (deservedly) be busy both in front of the camera and behind the scenes for the foreseeable future.