Netflix Buys Andy Serkis' 'Animal Farm' Motion Capture Adaptation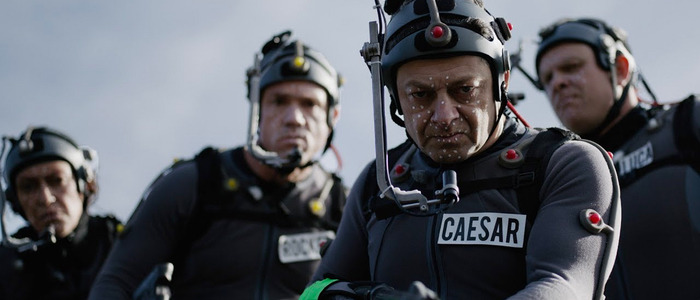 Andy Serkis and Netflix appear to be entering into a mutually beneficial partnership. The streaming service recently snapped up the worldwide rights to his film Mowgli, and now they're helping Serkis make one his long-gestating dream projects: an adaptation of George Orwell's famous novel Animal Farm. Serkis' Planet of the Apes director Matt Reeves will produce the Animal Farm movie. Animal Farm, George Orwell's iconic novel about farm animals that doubles as an indictment of Stalinism, is coming to Netflix. Deadline reports Andy Serkis will helm the film adaptation, which will make use of motion capture. This is Serkis' second Netflix-related project announced in the last few days. Previously, word came that the actor and filmmaker's long-delayed Jungle Book adaptation Mowgli was being sold to the streaming service as well.
Here's the Animal Farm synopsis:
A farm is taken over by its overworked, mistreated animals. With flaming idealism and stirring slogans, they set out to create a paradise of progress, justice, and equality. Thus the stage is set for one of the most telling satiric fables ever penned—a razor-edged fairy tale for grown-ups that records the evolution from revolution against tyranny to a totalitarianism just as terrible.
When Animal Farm was first published, Stalinist Russia was seen as its target. Today it is devastatingly clear that wherever and whenever freedom is attacked, under whatever banner, the cutting clarity and savage comedy of George Orwell's masterpiece have a meaning and message still ferociously fresh.
Serkis and co-producer Jonathan Cavendish have been trying to get this Animal Farm movie made for years. In 2013, the filmmaker announced he would start shooting the mo-cap adaptation in 2014. At the time, Serkis said:
"What we're trying to do is fairly unique. It's going to be entirely performance captured, so rather than photographing real animals and showing them with talking mouths, it will all be generated by the interaction between the actors playing those roles...the physicality and facial expressions of all the animals will come directly from actors' performances."
The film never materialized. Now, Netflix is making it a reality. One wonders if this was part of the overall Mowgli deal; perhaps Serkis realized that Netflix was the place that could actually make his long-delayed dream projects happen, and wrapped Animal Farm into the Mowgli package.
"We are incredibly excited to have finally found the perfect creative home in Netflix for this extraordinarily zeitgeist work by George Orwell," Serkis said of the new Netflix deal. "On top of that, to be re-united with my great friend Matt Reeves — with his acute sensitivity, storytelling intelligence and honesty and command in this realm — is to have the very best scenario for our long-held passion to bring this fable alive."
Animal Farm will reunite Serkis with Matt Reeves, who directed Serkis in Dawn of the Planet of the Apes and War for the Planet of the Apes. Reeves is producing, along with Rafi Crohn and Adam Kassan. "Andy is such an incredible artist — he is truly a force of nature and a beautiful soul," Reeves said. "To be able to work with him again and with Jonathan and Netflix to see Orwell's classic tale brought to life in a totally new and exciting way is an absolute dream."
There have been two previous Animal Farm adaptations before. One was an animated version in 1954, which was actually funded by the CIA's Psychological Warfare department (you can read all about that here). The other adaptation was a live-action TV movie in 1999, which used a mix of real animals and puppets created by Jim Henson's Creature Shop.
I won't go on a political diatribe here, but it's clear Serkis and company are going to fold troubling current events into their adaptation to make it even more resonate. Cavendish confirmed as much, saying the plan is to adapt the story "to the screen in a thoroughly contemporary fashion, which will highlight the staggering relevance today of the satirical and dramatic power of Orwell's re-imagined classic." Serkis will no doubt bring his considerable mo-cap skills to the project, and the end result might be something special.