'Shining' Sequel 'Doctor Sleep' Adds 'Westworld' Breakout Zahn McClarnon And More To Cast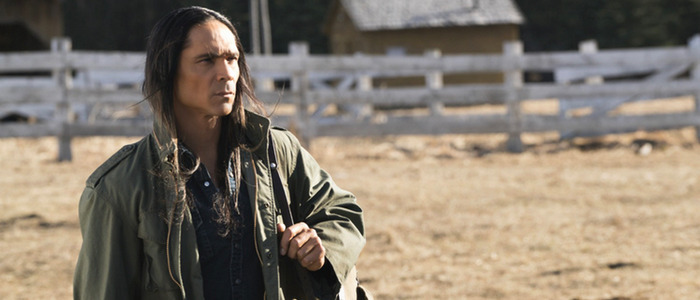 Doctor Sleep, the official sequel to Stephen King's The Shining which is almost nothing like The Shining, continues to attract a great cast. Zahn McClarnon, who broke out in a big way on the most recent season of Westworld, has come aboard to play villainous character Crow Daddy. In addition to that, Carl Lumbly and Alex Essoe will play Shining characters Dick Halloran and Wendy Torrance.
If you follow my writing here at /Film (and I hope you do!), you know by now that I'm a big Stephen King nerd. And yet, I'm not a fan of his Shining follow-up Doctor Sleep. I could give you a laundry list of reasons why, but I'll just boil it down to this: it's bad. Despite that, I can't help but be excited for the Doctor Sleep movie, which has amassed quite an impressive list of talent.
The latest: Variety reports that Zahn McClarnon, who has appeared on Fargo and give an incredible performance on the most recent season of Westworld, will play Crow Daddy in the film. Crow Daddy is a member of the True Knot, a group of "psychic vampires" who roam the country in RVs, looking for psychic people to feed on. Crow Daddy is the right-hand-man and lover of Rose the Hat, the leader of the group. Rose is being played by the great Rebecca Ferguson. In addition to Ferguson, Doctor Sleep stars Ewan McGregor as the grown-up Danny Torrance – the young boy with psychic powers from The Shining. McClarnon, Ferguson and McGregor are all excellent actors in their own unique ways, and their presence in the film is a huge bonus. So is the fact that the film is being helmed by Mike Flanagan, who is one of the best horror directors working right now.
Meanwhile, Deadline says Carl Lumbly, an actor who appeared in The Adventures of Buckaroo Banzai Across the 8th Dimension, will play Dick Halloran. Halloran, as you might recall, was the cook at the Overlook Hotel – the setting for The Shining. He possessed psychic powers known as "the shining", and recognized those same powers in Danny Torrance. Scatman Crothers played Dick in Stanley Kubrick's movie. Deadline also reports that Alex Essoe will play Wendy Torrance, Danny's mother, who was played by Shelley Duvall in the Kubrick movie. Essoe gave an incredibly performance in the indie horror film Starry Eyes. 
I had wondered how Flanagan would approach Doctor Sleep. The film is being sold as the "sequel to The Shining", but here's the thing – Kubrick's Shining film adaptation is very different than King's novel, a fact that continues to irk King to this day. I was curious to see if Flanagan would change his adaptation to be more in line with Kubrick's film, or if he would stick closer to King's novel. Lumbly's casting as Dick Halloran seems to confirm the latter. Because as you may recall, Holloran died at the end of Kubrick's film when Jack Nicholson's Jack Torrance took an axe to his chest. In King's novel, however, Halloran lives.
Which asks a big question: how will the general public react to this? Will the general public go into Doctor Sleep expecting it to continue what Kubrick's movie started? If so, folks are going to be sorely disappointed, and confused. There's still plenty of time for Warner Bros. to come up with a clever marketing plan to sort all this out. For now, we'll just have to wait and wonder.
Doctor Sleep opens on January 24, 2020.