'Star Wars: Episode 9' Begins Filming As J.J. Abrams Shares Photo From Set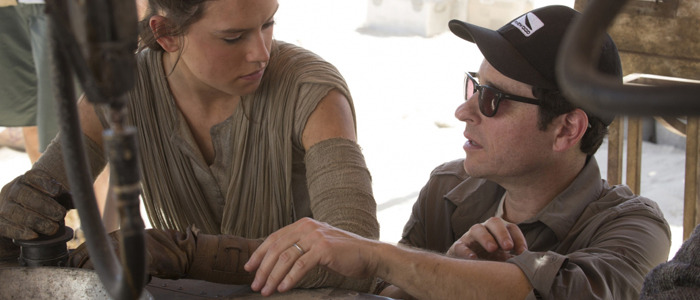 J.J. Abrams has officially joined Twitter.
The prolific writer/director/producer previously tweeted messages from his Bad Robot Productions' Twitter account, but now Abrams has created his own page and shared the first behind the scenes Star Wars Episode 9 photo from the set as filming officially gets underway.
Bittersweet starting this next chapter without Carrie, but thanks to an extraordinary cast and crew, we are ready to go. Grateful for @rianjohnson and special thanks to George Lucas for creating this incredible world and beginning a story of which we are lucky to be a part. #IX pic.twitter.com/FOfnGwVut5

— JJ Abrams (@jjabrams) August 1, 2018
The Twitter page says that Abrams joined the service in October of 2017, but today marks the first time he's tweeted from the account. And as you might expect, there are already arguments breaking out in the replies to this photo about the future of Star Wars and what should or shouldn't happen in the upcoming sequel. Welcome to Twitter, J.J.!
As for the photo itself, the stickers on the camera in the foreground make it appear as if Abrams may be using the same camera he used to shoot The Force Awakens. In the background, we can clearly see John Boyega as Finn and Joonas Suotamo as Chewbacca in what looks like the cockpit of the Millennium Falcon (or, at the very least, another ship of some kind). Speaking of Boyega, he shared a cropped version of the same photo on his own page:
Is that Daisy Ridley's Rey in the captain's chair? The camera is blocking the person's face, so it's hard to tell. But I imagine we'll be seeing plenty of other images and sneak peeks from the production on this Twitter account in the coming days. Stay tuned for more.
Daisy Ridley, John Boyega, Joonas Suotamo, Adam Driver, Oscar Isaac, Lupita Nyong'o, Domhnall Gleeson, Kelly Marie Tran, Billie Lourd, Naomi Ackie, Keri Russell, Richard E. Grant, Mark Hamill, Hamill, Anthony Daniels, Billy Dee Williams, and Carrie Fisher round out the cast. You can read more about the new movie here.
Star Wars: Episode IX opens on December 20, 2019.