'Top Gun 2' Cast Adds Glen Powell After All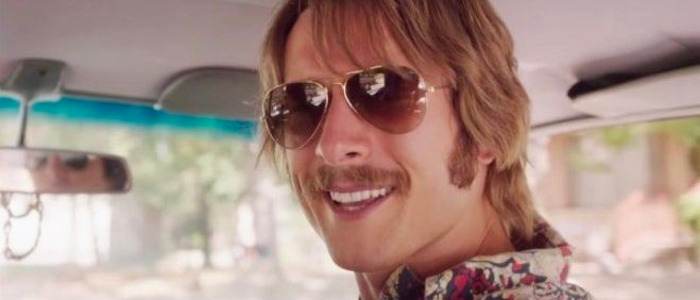 Glen Powell, who can currently be seen in Netflix's Set It Up, was up for the role of Goose Jr. in Top Gun: Maverick. Powell ultimately lost the role to Miles Teller, but as it turns out, the actor will be joining the Top Gun 2 cast after all. Sometimes, things work out. 
Last month, word broke that several actors were up for the role of Goose's son in Top Gun: Maverick. Those actors included Miles Teller, Nicholas Hoult, and Glen Powell. Powell seemed to emerge as the fan favorite, at least online. But he ended up losing the part to Teller, something he (jokingly) didn't take lightly.
I'm taking down all the Tom Cruise posters in my bedroom. Maybe, I'll leave one. Two for symmetry. Okay, the posters are staying. https://t.co/7gCpNLJCcz

— Glen Powell (@glenpowell) July 3, 2018
But all's well that ends well, because THR is now saying Powell has a role in the film after all. Powell won't be playing the offspring of Goose, and there's no info on what his character will ultimately be. But Powell fans can now rest easy knowing his persistence paid off. As THR says, "But [Tom] Cruise, producer Jerry Bruckheimer and Paramount and Skydance were so impressed with Powell that they tried to find another part for the actor. In fact, the movie's makers are so intent on having Powell that they are beefing up the role for him."
Meanwhile, Nicholas Hoult is waiting by a phone somewhere, hoping Tom Cruise will give him a call.
Top Gun: Maverick will see the return of Cruise's Pete "Maverick" Mitchell, a fighter pilot who is fond of feeling the need for speed. Val Kilmer will also return, as former antagonist-turned-friend Tom "Iceman" Kazansky. Jennifer Connelly also stars as the female lead in the film, described as "a single mother who runs a local bar near the Navy base." Joseph Kosinski, who directed Cruise in Oblivion, is helming, with a script by Peter Craig, Justin Marks, Ashley Edward Miller, and Zack Stentz.
Specific details about the film are scant at the moment. For a while, rumor had it that the Top Gun sequel would involve drone warfare. But Kosinski shot that down last fall, saying: "Personally, I would never want to see a movie about drones. For me Top Gun has always been not about fighter planes. It's been about fighter pilots."
Cruise added that Maverick is a "competition film like the first one...in the same vein, the same tone as the first [film]." Cruise is riding high on the Mission: Impossible franchise buzz, but his films outside of that series haven't been doing so well (not that they've been flops, either). Top Gun: Maverick will be a test to see if the actor can transfer that Mission: Impossible heat into another franchise.
Top Gun: Maverick opens on July 12, 2019.