Everything Is Awesome About 'The LEGO Movie 2' Stars Teaching You Airplane Safety In A Turkish Airlines Video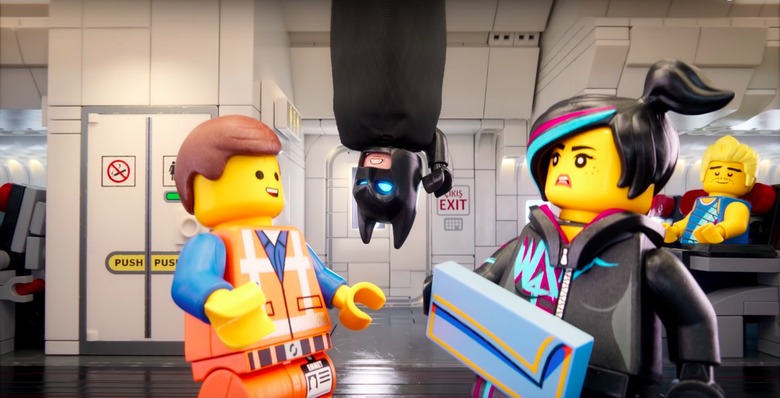 Some movies market themselves the old-fashioned way: a trailer, some posters, maybe a featurette or two. But The LEGO Movie 2: The Second Part is not about that. No, the sequel to the wildly popular The LEGO Movie is going to reach for the sky in its promos — literally.
An airplane safety video has been released by Turkish Airlines featuring the energetic stars of The LEGO Movie franchise, including its spin-off films LEGO Batman and even The LEGO Ninjago Movie. It's a pretty crowded flight loaded with celebrity cameos, fun animation, and of course, a catchy song.
The LEGO Movie 2 Airplane Safety Video
If only all airplane safety videos could be this fun. Passengers aboard Turkish Airlines were treated to a surprise when the standard safety video that starts before a flight takes off — which usually consists of stock photo models grinning while making broad gestures — was a special video tied to The LEGO Movie 2. In it, the stars of the LEGO Movie franchise pop up to tell you how to buckle your seatbelt, use an oxygen mask, and deplane in an emergency. And there are some fun bits where LEGO Batman loses all his electronics and swaggers around taking selfies with passengers.
The big stars from The LEGO Movie, The LEGO Batman Movie, and even The LEGO Ninjago movie all make an appearance, as well as LEGO versions of Superman, the Flash, and the Joker. They end the video by breaking into a catchy song that they promise "will get stuck in everyone's head for the rest of the flight!"
This is loads better than your average airplane safety video, which you all probably tune out immediately as soon as it starts playing. Of course, that leads to viral photo fails like this. So maybe Turkish Airlines is on to something by recruiting The LEGO Movie characters to teach us all about airline safety. I'll admit this is the first time I've watched an airplane safety video all the way through in decades. Plus, it doubles as airplane entertainment! And, of course, as a nifty little promo for The LEGO Movie 2.
The LEGO Movie 2: The Second Part opens in theaters on February 8, 2019.
The citizens of Bricksburg face a dangerous new threat when LEGO DUPLO invaders from outer space start to wreck everything. It's now up to Emmet, Lucy, Batman and their friends to defeat the giant marauders and restore harmony to the LEGO universe.