'2001: A Space Odyssey' Takes The Ultimate Trip To IMAX This Month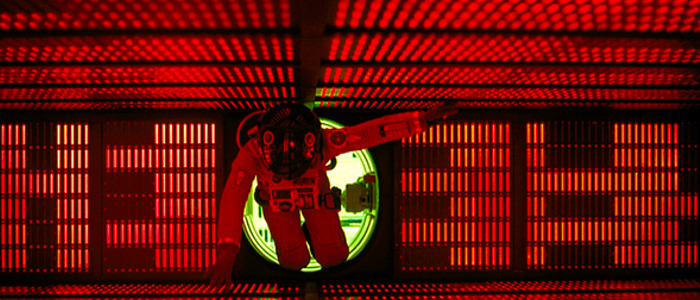 2001: A Space Odyssey has had quite the year, returning to theaters via an "unrestored" print supervised by Christopher Nolan, and headed to 4K Blu-ray for the first time ever. Now, the film will make one last ultimate trip – to IMAX.Stanley Kubrick's sci-fi classic will screen in select IMAX theaters this month, giving audiences the chance to witness it on the biggest screen possible.Deadline and others are reporting the 2001 IMAX screening news, which is either a good or bad thing, depending on how much of a film nerd you are. On one hand, the prospect of witnessing Kubrick's mind-blowing sci-fi extravaganza on the biggest screen possible might seem too good to pass up. On the other hand, it's worth noting that Kubrick didn't shoot the film for IMAX – since IMAX didn't exist when the movie was made. With that in mind, one could argue that blowing the film up for IMAX dishonors Kubrick's intentions.
The 2001 IMAX news comes on the heels of a recent  "unrestored" 70mm film re-release of the film supervised by Christopher Nolan, in honor of the movie's 50th anniversary. "For the first time since the original release, this 70mm print was struck from new printing elements made from the original camera negative," Nolan said. "This is a true photochemical film recreation. There are no digital tricks, remastered effects, or revisionist edits. This is the unrestored film – that recreates the cinematic event that audiences experienced fifty years ago."
The "unrestored" print screened at the Cannes Film Festival before making a theatrical run in the United States. A 4K Blu-ray release will hit shelves this October, along with a digital release. "2001 to me is the most cinematic film that has ever been made and it has been an honour and a privilege to be able to share the film with a new generation," Nolan said "4K UHD allows the closest recreation of viewing the original film print in your own home. Kubrick's masterpiece was originally presented on large format film and the deeper colour palette and superior resolution comes closest to matching the original analogue presentation."
As for the IMAX screening, here are the specifics. If you're hoping to catch the actual 70MM print of the film in IMAX, your options are limited. Only 4 select IMAZ theaters will show the 70MM print of the film: AMC Universal Citywalk IMAX, Universal City, AMC Lincoln Square IMAX, New York City, AMC Metreon IMAX, San Francisco, and Ontario Place Cinesphere IMAX, Toronto. Other IMAX theaters will screen the new 4K restoration, with Laser and IMAX Xenon projection formats.
Tickets for the IMAX screening go on sale Friday, August 3. The screenings will run for one week, starting on August 24, 2018.