'Y The Last Man' TV Show Cast Adds Timothy Hutton As Someone Who Probably Won't Stick Around Very Long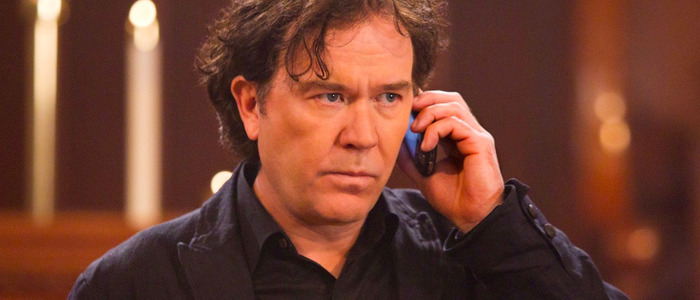 The Y the Last Man TV show cast has a new addition, and there's a pretty good chance he won't stick around very long. Timothy Hutton has joined the series, inspired by the comic from Brian K. Vaughan and Pia Guerra. Y is set in a world where all living mammals with a Y chromosome have died, with the exception of an escape artist named Yorrick and his Capuchin monkey, Ampersand. Since Hutton is playing neither Yorrick nor his monkey, don't expect him to make it into the second season.
Deadline reports Hutton has signed on for a "key role" in FX's Y the Last Man series (side-note: Deadline also strictly refers to the show as just Y, which suggests FX is dropping the Last Man part. If true, this is a terrible idea, and FX should reconsider). That key role? The President of the United States. But as mentioned above, don't get too attached to Hutton's U.S. President. The whole Y narrative revolves around a world where every male mammal has suddenly died.
Hutton has had a long, eclectic career. He won a Best Supporting Actor Oscar for 1980's Ordinary People, and lead the TNT drama series Leverage. I primarily know him from The Dark Half, George A. Romero's adaptation of the Stephen King novel about an author whose pseudonym comes to life and goes on a murderous rampage. Hutton will next be seen in Netflix's The Haunting of Hill House adaptation, directed by Mike Flanagan.
The actor joins a cast that includes Barry Keoghan as main character Yorrick Brown, Diane Lane as Yorrick's mother Senator Jennifer Brown, Imogen Poots as Yorrick's sister Hero Brown, and Lashana Lynch as Agent 355, who is commissioned to protect Yorrick. Michael Green (American Gods) and Aïda Mashaka Croal (Luke Cage) will serve as showrunners and executive producers. Melina Matsoukas (Insecure, Master of None) directed the pilot and will also executive produce.
While there will no doubt be changes from comic to screen, the source material told the story of Yorrick Brown, "the only human survivor of a planet-wide plague that instantly kills every mammal possessing a Y chromosome. Accompanied by a mysterious government agent, a brilliant young geneticist and his pet monkey, Ampersand, Yorick travels the world in search of his lost love and the answer to why he's the last man on earth."
Y the Last Man was published from 2002 through 2008, and received a heaping of acclaim in the process. The struggle to adapt Y to the screen has been on going for the past few years. At one point, D.J. Caruso was going to direct a film adaptation starring Shia LaBeouf, but it never happened because Lionsgate wanted a single standalone film instead of a three-film series (I bet they're kicking themselves now that "cinematic universes" are all the rage). Since then, TV has been the primary development location for Y: The Last Man. FX's interest in adapting the comic into a series was announced in 2015. The network finally ordered a pilot earlier this year.