As MoviePass Struggles, AMC Stubs A-List Is Gaining Steam And Racking Up Customers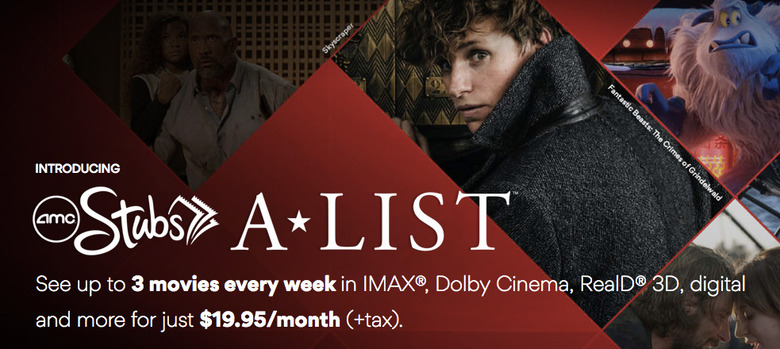 It's no secret that MoviePass is struggling to stay afloat. After having their service temporarily shut down because they ran out of money, the service hasn't really recovered in a way that provides customers with what they were promised. Now their official position is that the price of their subscription will increase to $14.95 and they won't make new blockbuster releases available through the app for the first couple weeks they're in theaters. And that's giving AMC Theatres an opportunity for their new movie ticket subscription service to thrive.
AMC Stubs A-List launched in June and they've already enrolled more than 175,000 customers to pay $19.95 a month to get three movie tickets every week, without restrictions on movies or formats, as well as discounts on concessions. And they're likely only going to grow now that MoviePass will be losing subscribers left and right.
Deadline has the details on the success of the AMC Stubs A-List subscription service, which is surging in membership more than the movie theater chain anticipated. When the service launched on June 26, they assumed they would hit 500,000 members in a single year. But clearly they're outpacing that prediction, and they're bound to keep doing so as MoviePass members run away from the app outages, surge pricing, raised subscription cost and movie restrictions. Plus, with 15.8 million subscribers to their normal AMC Stubs benefits program, they have a large pool of customers to get on board their AMC Stubs A-List program.
Here's some standard publicity fluff and self-promotion from Adam Aron, CEO and President of AMC:
"We are nothing less than ecstatic about the early consumer response to AMC Stubs A-List, which encourages moviegoers to come to the theatre more often, bringing their family and friends with them. With more than 175,000 members enrolled in just five weeks, the growth of AMC Stubs A-List has far exceeded our projections. We also find it reassuring that we consciously designed AMC Stubs A-List to be a profitable program with a price point that is loaded with consumer value while also being sustainable for us and for our guests.
Because AMC Stubs A-List benefits our guests, our valued industry and studio partners, and our shareholders, we expect A-List will endure over the long-haul. Accordingly, we are excited to continue welcoming current and new AMC guests to enjoy AMC Stubs A-List, which offers the very best of AMC. AListers get a choice of every movie including the newest blockbusters, in every format including IMAX, Dolby Cinema and RealD 3D, at every U.S. AMC location, bookable online and in advance, with no annoying or unreasonable surge/peak pricing, up to three times per week, all for just $19.95 per month (plus tax).
Indeed, AMC Theatres has the distinct advantage of learning from the mistakes of MoviePass and controlling every aspect of the cash flow coming into their theater through this subscription service. So they were able to figure out what they could afford when it came to discounting tickets for this MoviePass killer. If MoviePass goes under completely, there's a chance the price could go up, but if they really figured out how to make the service profitable at $19.95 a month, then that might not be a problem.
The only downside to AMC Stubs A-List is that AMC Theatres locations don't always offer lower key indie releases as much as they do mainstream studio releases. That's one of the things that made MoviePass a little more beneficial for users and distributors, but hopefully AMC Stubs A-List will keep putting more butts in theater seats. For more about AMC Stubs-A-List, check out David Chen's review of the service over here.