'Terminator 6' First Look Highlights The Women Of 'Terminator'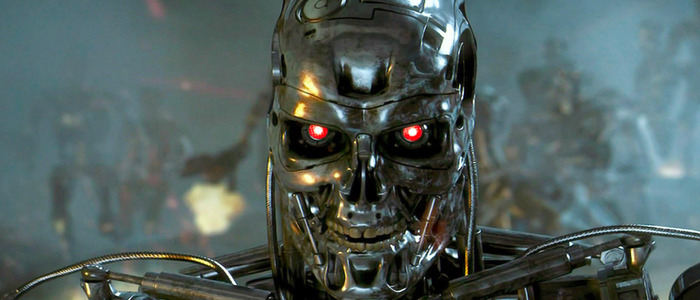 Our first official look at the new, untitled Terminator film is here, and it's appropriately gritty and intimidating (and a bit Photoshop-y). The pic shows stars Natalia Reyes, Mackenzie Davis and Linda Hamilton, all of whom look ready to kick your ass. See the Terminator 6 first look below.
Official first look at the new @Terminator featuring Natalia Reyes, Mackenzie Davis and Linda Hamilton. Directed by Tim Miller (DEADPOOL). Produced by James Cameron and David Ellison. In theatres 11.22.19. #Terminator pic.twitter.com/0E9he6ujm8

— Paramount Pictures (@ParamountPics) August 1, 2018
Much like the Terminator itself, the Terminator franchise refuses to die. The latest film, Terminator 6, is being helmed by Deadpool's Tim Miller. But this Terminator has a few things in its favor that other recent sequels did not. For one thing, original Terminator creator James Cameron is on board as a producer, and he's worked with Miller to develop the film. For another, the original Sarah Connor, Linda Hamilton, is back as well. Arnold Schwarzenegger has also returned, but he also appeared in the previous, terrible film – Terminator Genisys – so let's not get too excited.
Not a whole lot is known about this new Terminator. We know that Agents of S.H.I.E.L.D. actor Gabriel Luna is playing a new Terminator. We also know that this film seems to be following the model of the new Halloween movie. That is, it's ignoring virtually all the other sequels, and will only serve as a follow-up to Terminator 1 and 2. Alternate timelines might also be involved. "This is a continuation of the story from Terminator 1 and Terminator 2. And we're pretending the other films were a bad dream," James Cameron said. "Or an alternate timeline, which is permissible in our multi-verse. This was really driven more by [Tim] than anybody, surprisingly, because I came in pretty agnostic about where we took it. The only thing I insisted on was that we somehow revamp it and reinvent it for the 21st century."
Schwarzenegger added:
"I think [James] Cameron and Tim [Miller] came up with a concept where they can continue on with the T-800 but make a whole new movie. What they are doing now with this one is basically to just take a few very basic characters, like Linda Hamilton's character and my character, and dismiss everything else. Just move away from all these rules of the timeline and other characters."
So what can we learn from the above image? The official caption for the image that was sent out to press confirms some character names. Natalia Reyes is "Dani Ramos", and Mackenzie Davis is "Grace", but that's not a whole lot to go on. Davis' character, who is apparently a solider and an assassin, has a few ornamental scars (and her biceps are killer). And Sarah Connor looks appropriately angry and deadly. It also looks like this was an image Photoshopped together, and none of these people were in the same spot at the same time, but I guess we shouldn't hold that against the movie.
Terminator6, or whatever it will eventually be called, opens on November 22, 2019.