Movie Mixtape: 6 Movies To Watch With 'Christopher Robin'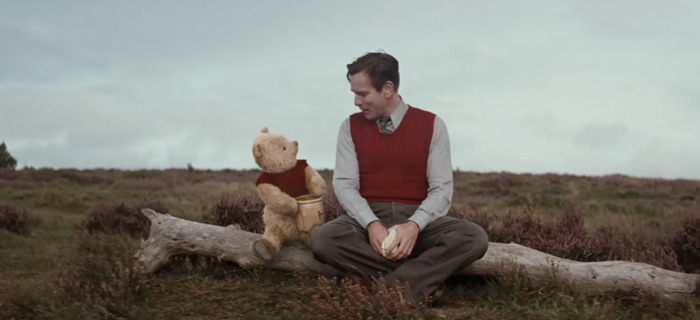 If you haven't bought stock in your favorite facial tissue brand, there's still time because Christopher Robin doesn't hit theaters until late Thursday night. Better yet, buy a bunch of tissue and resell it outside the theater for people who forgot theirs. You'll guaranteed make more money than MoviePass.
Based on A.A. Milne's immeasurably popular imaginary bear, the new film from director Marc Forster continues Disney's new-ish passion for converting beloved properties into live-action while saving a middle-aged guy from forgetting his true spirit. Ewan MacGregor plays an adult version of Christopher Robin, who needs his old friends Winnie-the-Pooh, Tigger, and the whole Hundred Acre Wood gang to remind him about joy and art and creativity and silliness. All to jar him out of his huffy existence of responsibilities and offer him a bit of honey.
Here are six more offerings to double feature once you've stopped ugly crying.
The Many Adventures of Winnie the Pooh (1977)
The past half-century of A.A. Milne adaptations are dominated by Pooh. Looking at his filmography, you'd assume he never wrote anything else, which is why it was a little surprising to look back at the first time Disney offered the character in a feature film. The characters had been popular for decades before The Many Adventures of Winnie the Pooh. Plus, the film was really a compilation of three previously screened shorts glued together by some extra story and a bookend. Here, Pooh is voiced by Disney veteran Sterling Holloway, who also voiced Mr. Stork in Dumbo, the Cheshire Cat in Alice in Wonderland and many others.
Fittingly, that ending involves Christopher Robin heading off into the world knowing that, should he ever need them, Pooh and the rest will be there waiting for him. It feels like Christopher Robin is closing that narrative circle.
Hook (1991)
Forster also directed Finding Neverland, about J.M. Barrie and the real-life family that inspired Peter Pan and Wendy, but Christopher Robin feels like it shares more DNA with Hook. Both are about formerly whimsical men, succumbed to adulthood's banality, who need fictional goofballs to draw them back out of their crusty shells.
Hook survives through nostalgia goggles for those born between 1981 and 1986, but it's still crazy to me how much this movie gets bagged on. There are a ton of great elements, including a caffeinated Robin Williams, Dustin Hoffman snuffling and grunting under Captain Hook's powdered wig, Maggie Smith being unsurprisingly awesome, and Bob Hoskins brightening every scene with a game performance. Also: fake real food fight. Lighten up, y'all.
Shirley Temple's Storybook Collection (1958)
No, it's not a movie, but this series provides the best example of a non-animated Pooh as well as a reminder that Disney built an empire (and continue to build it) off stories in the public domain.
The Little Mermaid, Winnie the Pooh, Oz, and the Babes in Toyland all show up in this anthology long before Disney crafted its visions of them. The marionette Winnie the Pooh segments are quaint and funny, and they offer us a version of the characters beyond what's become inescapably iconic.
Goodbye Christopher Robin (2017)
Before saying hello to Christopher Robin, we had to say goodbye. Simon Curtis's drama is along the lines of Finding Neverland in that it finds the complicated heartache of real-world events that led to different child-pleasing literary phenoms.
Domhnall Gleeson plays Milne as a writer struggling with the frivolousness of his work in the face of a second world war and the daily threat of PTSD caused by his time fighting in the Battle of the Somme. Staring straight ahead into life's nihilism, he finds small wonder in his son's creativity and his teddy bear companion.
Paddington (2014)
Even a few years ago, the prospect of a live-action version of cherished animated characters terrified us all, but it seems like production companies have nailed down the difficult blend of humans and CGI so that they live together outside the uncanny valley.
On that front, Paddington was the total package. The tale of a talking Peruvian bear who dawdles his way around London was a delight, so was the sequel, and you were already thinking of watching them both anyway. As a bonus connection, Peter Capaldi (who voices Rabbit in Christopher Robin) played not-good neighbor Mr. Curry in Paddington and its sequel.
The Perfect Alibi (1930)
If you're wondering what else Milne wrote, there were a slew of plays, novels, poems, and short film scripts. His plays tended toward comic misunderstandings that would have been popular in the first half of the 20th century. Milne adapted the screenplay for The Perfect Alibi, or Birds of Prey as it's known in native Britain, from his play "The Fourth Wall."
It also diverges from what he's known for (even beyond Pooh). It's a thriller where two men at a dinner conspire to kill the man who put them in prison years ago. It doesn't stand out among hundreds of other movies like it from the time, but it's worth a look to see what the man who created Pooh and Piglet could do with a good murder.
The Mix
It's sort of strange that Disney has crafted a fictional version of a real person whose father made him a character in a series of books that became wildly popular, especially considering that (surprise!) Christopher Milne wasn't super thrilled about Pooh being commercialized. Naturally, he wanted to escape childhood fame, and Christopher Robin pulls a fictional adult version of him back into that world.
Maybe that's the cynical view. Maybe the sugar coating of the all-ages film will share an important message in a kind-hearted way. Maybe I should be watching Listen Up Philip instead. But maybe it's also important to consider the immense legacy of the characters as they were in the books and in media before Disney, now that Pooh lives not in the Hundred Acre Wood, but in the House of Mouse.
I'll still probably be crying anyway.
What are you watching with Christopher Robin?