The Lasting Legacy Of Bob Fosse And Gwen Verdon (And Why FX's 'Fosse/Verdon' Sounds So Exciting)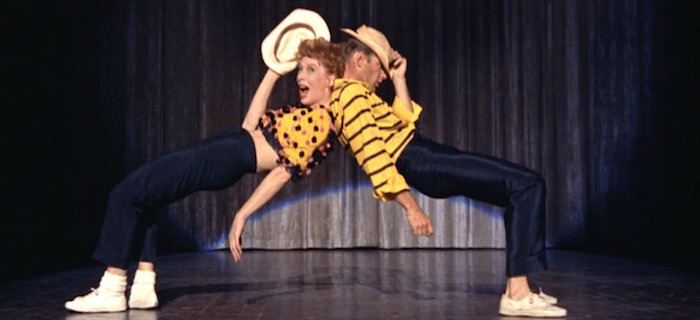 Last week, news broke that FX is producing a limited series based on the relationship between Bob Fosse and Gwen Verdon, with Sam Rockwell and Michelle Williams in the lead roles. Fosse/Verdon will be executive produced by Hamilton's Lin-Manuel Miranda, who is also composing the score. This is thrilling news for fans of musical theater, but should excite even the non-initiated. Fosse and Verdon's story is one of absolute passion; for their work and for one another. Together, they created beautiful, iconic films and performances, and watching their story unfold with such talent backing it will be a treat for all.
If you're not familiar with Fosse or Verdon, here's a look back at who they were, how their paths crossed, what they created together, and how their love produced a golden age of musical splendor. And, of course, why their story will make for must-see TV.
Who they were and how they met
Bob Fosse was a dancer, choreographer, actor, and director from Chicago; a wannabe Fred Astaire, he broke into show business thanks to Jerry Lewis, who helped him get work after he saw Fosse dance with his first wife (Mary Ann Niles) in the sketch revue Call Me Mister. Fosse signed with MGM in 1953 and appeared onscreen in films like The Affairs of Dobie Gillis and Kiss Me Kate. He then moved into theater choreography, starting with his debut, The Pajama Game. In 1955, he choreographed Damn Yankees for Broadway, where he met and fell in love with Gwen Verdon, who played the lead character, Lola.
Verdon was born in Culver City, California to a showbiz family; her father was an electrician at MGM Studios and her mother a vaudevillian actress. She began dancing at age six, which led to stage and film work, and also taught dance lessons to stars like Lana Turner, Rita Hayworth, and Marilyn Monroe. Verdon later made her way to Broadway, and had her big break in Can-Can in 1953, for which she won a Tony Award. She was then cast in Damn Yankees, where she won another Tony and met Fosse. The two bonded in rehearsals for the stage musical, and their careers were forever changed.
The success of Damn Yankees led to a film version in 1958, with Verdon reprising her role of Lola. Fosse is also in the movie, dancing with Verdon for the mambo duet "Who's Got the Pain."
The couple married in 1960. That same year, Fosse directed and choreographed his first Broadway musical, Redhead, with Verdon again playing the lead role. Redhead cemented the pair as one of the most successful showbiz couples; the show won six Tony Awards, including statutes for Verdon's acting, Fosse's choreography, and Best Musical.
In 1963, the couple welcomed a daughter, Nicole, and continued their professional success. But it wasn't all sunshine and roses for the pair, who continued creating beautiful art together, but whose marriage couldn't withstand Fosse's many vices.
A relationship in question
Fosse and Verdon collaborated once again on the iconic stage show Sweet Charity in 1966, but Fosse's wandering eye soon led to the disintegration of their marriage. Though they never divorced, and continued to work together, they formally separated in 1971. (Fosse would direct and choreograph Verdon to another Tony nomination with Chicago in 1975.) Soon after their separation, Fosse grew close with singer/dancer/actress Ann Reinking, who he stayed with for most of the '70s, although he allegedly had other affairs. (Jessica Lange was rumored to have had a fling with him at one point.) Verdon once said of Fosse, "Bob grew up around strip clubs. Women were his hobby. He'd even cheat on his mistress. Part of him felt guilty, another part was ecstatic."
Fosse's career took off wildly after the success of Redhead, and expanded back into film. After a few choreography gigs, he got into film directing. He directed five films in total: Sweet Charity, Cabaret, Lenny, All That Jazz, and Star 80. He won the Academy Award for Best Director for Cabaret – beating Francis Ford Coppola for The Godfather – and based much of All That Jazz on his own life, with Roy Scheider playing a version of Fosse as a stressed, addiction-ridden choreographer and director; Reinking, his partner at the time, played the lead character's girlfriend. Verdon also collaborated with Fosse on the film – actress Leland Palmer plays a character modeled after her – and even grew close to Reinking in the process.
As far as Verdon's career goes, she eventually eased away from stage acting after originating the role of Roxie Hart in Chicago. Instead, she moved into film and television, playing roles in movies like The Cotton Club, Cocoon, Alice, and Marvin's Room, and on shows like Magnum, P.I. and Homicide: Life on the Street.
Though separated, Verdon never lost touch with Fosse. She was present when he died from a heart attack at the Willard Hotel in 1987, holding him in her arms until paramedics arrived. Along with Reinking, she was instrumental in keeping Fosse's legacy and style alive, up until her death in 2000.
The legacy
That cordial working relationship and personal fondness for one another is why Fosse and Verdon are considered one of the all-time-great showbiz romances. They never stopped loving each other or the beautiful things they could make together, and never stopped finding joy in one another.
Even after his death, Verdon – and Reinking – remained dedicated to keeping Fosse's legacy alive. In 1999, they collaborated on a revue show simply titled Fosse which was designed to showcase his famous choreography; like the "amoeba," which consists of turned-in knees and toes, finger snapping and side-shuffling, as well as his use of jazz hands and props like hats and canes. Fosse won the Tony Award for Best Musical in 1999.
We don't know much about the series outside of the main cast and creators, but it will be fascinating to watch this grand, musical love story played out with FX's signature quality touch. We also know that the couple's daughter, Nicole Fosse, herself a dancer, is involved in production. Nicole's spirit was a key part of All That Jazz, and she – like her mother – has spent much of her adult life maintaining her father's legacy. With the combined powers of a talented cast and a living family member, there's so much about Fosse/Verdon to get excited about.