Jon Turteltaub Says His 'It's A Small World' Movie Is Not The Ridiculous Concept You Might Imagine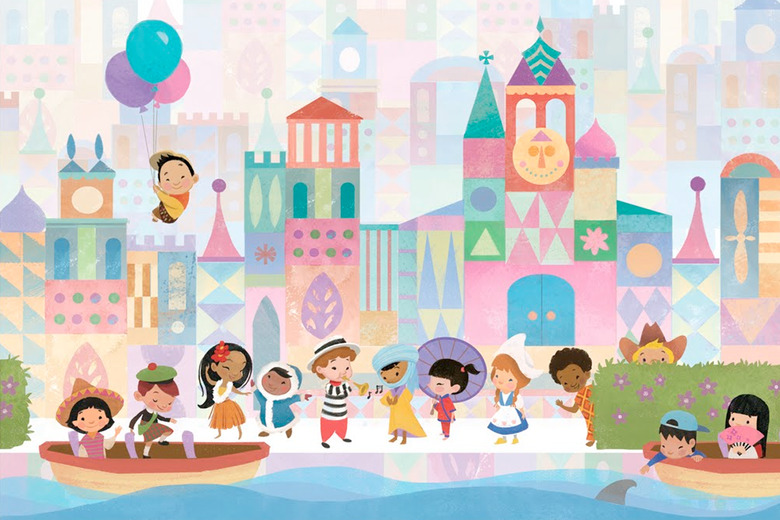 I'm a self-described theme park fanatic and a card-carrying Disneyland annual passholder, so when any film property based on a Disney theme park ride or land is announced, I'm usually excited. But the 2014 announcement that they were developing a movie based on one of Walt Disney's first rides, It's A Small World, was met with confusion and dread. The ride is a wonderful piece of art and history, powered by a catchy (possibly too catchy) theme song written by Disney legends the Sherman Brothers. But to say there isn't much of a story in the ride is an understatement – there is no story. It's essentially a boat ride showing the many cultures around the world unified through song.
So while talking with director Jon Turteltaub for his latest film The Meg, I had to ask the National Treasure-helmer for an update on this bizarre theme park-to-movie project.
We haven't heard much about this project in the last couple years since the screenwriters were announced, so I thought it was about time to ask Turteltaub for an update. Here is an excerpt from my interview with the filmmaker.
***
One last question for you.  I know you were attached to a movie with Disney called It's a Small World.
Still am.
It's still going? 
I took my daughter on the ride this weekend actually.  Last weekend.  We're still...  Anyone who says making a movie based on the Small World ride is ridiculous is completely right.  Which is why it's really tricky to figure it out.  Because there is a way where it's not ridiculous.  Where in fact it's pretty clever and delightful.  We're working on the clever and delightful version and that's gonna take more time than the really ridiculous, bad version.
What is the logline or you can't share or...?
I think we know it's very emotional because it is a world of laughter and a world of tears.
Okay, well thank you very much, Jon.  Appreciate it.
Thank you.
As a Disneyland Annual passholder, don't eff it up.
[laughs] I'll try not to screw it up for you.
***
So there you have it. I'm guessing that Turtletaub was hired for this project because of his history with National Treasure adventure-style movies with Bruckheimer. I really can't tell if he's just joking with me when he quotes the Sherman Brothers song, telling me it will be very emotional because it is "a world of laughter and a world of tears." But the fact that he insists this isnt the ridiculous version of a Small World movie adaptation that you might imagine gives me some hope.
Disney has been trying to recapture the magic of the Pirates of the Caribbean franchise, but it doesn't look like Guerillmo del Toro's Haunted Mansion or Jon Favreau's Magic Kingdom are going to get off the ground. The Space Mountain movie fell off the slate when Disney acquired Lucasfilm, Brad Bird's Tomorrowland was widely considered a dud, and John August's Tower of Terror movie fell into development heck when Disney decided to re-theme the west coast version of the attraction into Guardians of the Galaxy. However, Jungle Cruise starring The Rock is currently in production.
But back to It's a Small World. The story is based on a treatment by Jared Stern, who has worked on Disney animated movies like Bolt, Wreck It Ralph, and The Princess and the Frog. He also wrote the live-action comedy The Internship and created the television series Dr. Ken. In 2016 it was announced that screenwriting duo Tim Rasmussen and Vince Di Meglio, whose list of credits include License to Wed, Marmaduke and the in-development Three Men and a Baby sequel Three Men and a Bride, were hired by mega-producer Jerry Bruckheimer and Turteltaub to pen a big screen adaptation of the popular theme park attraction. Turteltaub will be producing the film alongside The Lego Movie producer Dan Lin.
Turteltaub's history with Disney stretches back decades. His 1992 movie 3 Ninjas was a Disney movie, as were his Cool Runnings, While You Were Sleeping, Phenomenon, Instinct, The Kid, National Treasure, National Treasure: Book of Secrets, and The Sorcerer's Apprentice. (The last three of those were produced by Bruckheimer, who's also done a lot of work with Disney.)
Walt Disney created the original ride with his Imagineering group for the New York World's Fair in 1964. Most people know the ride because it was rebuilt for the Disney theme parks around the world. The ride was considered highly innovative in its day, featuring over 300 audio-animatronic dolls from all over the world singing the now infamous (and loved or hated depending on the person) song penned by Disney songwriters Robert S. Sherman and Richard B. Sherman.