Here's Your 'Wonder Woman 1984' First Look At Pedro Pascal And His Glorious Hair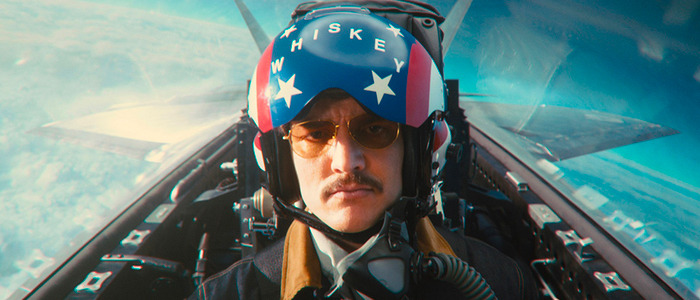 Wonder Woman 1984 director Patty Jenkins took to Twitter to reveal our first look at Pedro Pascal in the superhero sequel, and he looks...different. Pascal is almost unrecognizable, decked-out in extreme '80s fashions and extreme '80s hair. But who is he playing? See the Wonder Woman 1984 first look below.
Can't...Stop... Watching... @PedroPascal1 !!! #WW84 pic.twitter.com/6s7YdkGQNL

— Patty Jenkins (@PattyJenks) July 30, 2018
There he is, in all his glory. This looks more like a still from American Hustle or The Wolf of Wall Street than Wonder Woman 1984, and I dig it. Pascal posted the image to his Instagram account, with the caption "Power suit. Power hair."
Now that we know what the Game of Thrones and Narcos actor looks like in the film, it's time to ask: who is he playing? Just based on his appearance him, I'm going to jump to conclusions and assume Pascal is playing some sort of villain. That's just the vibe I'm getting here. We know the main villain in the film will be Kristen Wiig's Cheetah, but that doesn't mean there won't be other antagonists for Wonder Woman to face off against.
The fact that Pascal's character is shown on a 1980s-style TV is interesting as well. It likely ties into the previously released image of Gal Gadot's Diana gazing into a wall of TV monitors.
Wonder Woman 1984 #WW84 pic.twitter.com/aFei1Taqrt

— Gal Gadot (@GalGadot) June 13, 2018
But what's the connection? Is Jenkins going for a very literal 1984 reference here, and featuring a subplot about how "Big Brother" is always watching? Or am I reading too much into things? None of this speculation tells who Pascal is playing, of course. One theory that's already floating around is that the actor is portraying DC comics villain Maxwell Lord. Per the DC Wiki, "Maxwell Lord was introduced as an up-and-coming young executive at a major corporation known as Innovative Concepts who would indulge in any means necessary to reach the top of the corporation. To that end, Lord established a friendship with the CEO of the corporation and became his protege to rise in the ranks of the corporation before concocting a plan to murder the CEO for his position."
Pascal's '80s businessman attire could certainly be pointing in the direction of Maxwell Lord, but how and why the character fits into the story remains to be seen. Of course, there's always a chance Pascal is playing a brand new character that Jenkins and company invented for the film. When all is said and done, Pascal's character is just another mystery to add to the growing pile. There's so much we don't know about Wonder Woman 1984, including just how and why Chris Pine's deceased Steve Trevor ends up still alive, and transported to the 1980s. During the Wonder Woman 1984 Hall H Comic-Con panel, Jenkins said that Trevor's resurrection is  a "very important part" of the film, but wouldn't provide specifics. She's crafty like that.
Wonder Woman 1984 opens on November 1, 2019.