'Stranger Things' Halloween Horror Nights Key Art Heads To The Upside Down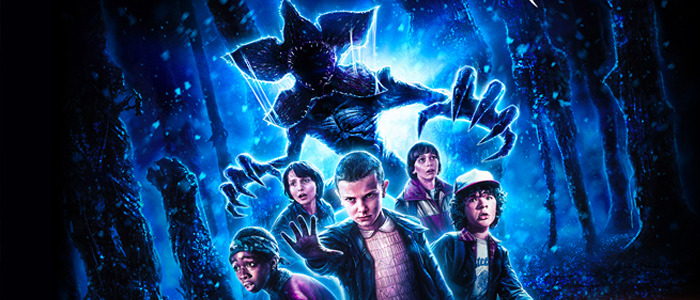 If you've ever seen Netflix's posters, banners, or billboards for their supernatural '80s-set thriller Stranger Things, you've seen the work of artist Kyle Lambert. He is the show's official illustrator, and he creates realistic, almost portrait-level renderings of the cast, including Millie Bobby Brown, Finn Wolfhard, and many more. Though it'll be a while before we see these characters on the small screen again, Lambert is back with a brand new piece of key art to promote the Stranger Things Halloween Horror Nights maze that's coming to Universal Studios theme parks later this year. Check out the full piece of artwork below.
Stranger Things Halloween Horror Nights Key Art
Here's the press release's description of this image:
"Featuring the series' cast standing adjacent to the predatory Demogorgon, the ominous image depicts a nearly palpable account of what guests can expect to experience when the Stranger Things maze debuts as part of Halloween Horror Nights this fall."
The Stranger Things maze will bring the Demogorgon to Halloween Horror Nights for the first time to "stalk unwitting guests" at Universal Studios Hollywood and Universal Orlando Resort starting on September 14, 2018, and at Universal Studios Singapore starting on September 27, 2018.
Here's what fans can expect from the new maze:
Working collaboratively with Netflix, along with the creators and executive producer of the blockbuster series—Matt Duffer, Ross Duffer and Shawn Levy, the mazes will be authentic representations of "Stranger Things," designed to transport guests into artfully recreated scenes and storylines. From the menacing Hawkins National Laboratory, under the U.S. Department of Energy, to the Byers home adorned with an erratic display of flashing Christmas lights and the eerie Upside Down woods oozing a shower of floating orb-like spores, the chilling new mazes will offer surprising twists and unexpected turns around every corner.
To give you an idea of what this might be like, here are a few walkthrough videos of some themed mazes from previous years. First up, here's one based on Stanley Kubrick's The Shining:
Here's one based on the Christmas horror film Krampus:
On the TV side of things, FX's American Horror Story got its own maze in 2016:
Halloween Horror Nights isn't the only event to take inspiration from Stranger Things this year. If you're in the Midwest, be sure to check out this incredible corn maze in Indiana that's designed to look like Lambert's season 2 artwork.