'Mission: Impossible - Fallout' Tops Box Office With Biggest Opening For The Franchise Yet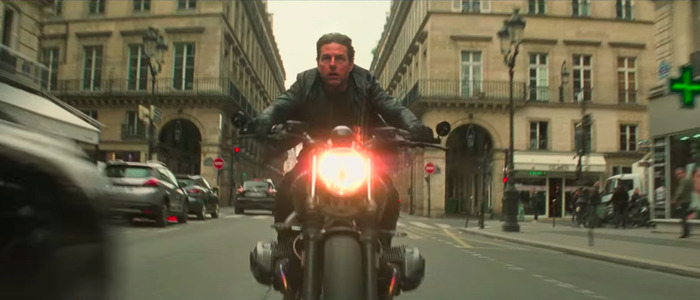 This weekend brought Mission: Impossible – Fallout to theaters. While plenty of MoviePass subscribers found themselves unable to check in to get a ticket to see the latest installment of the action franchise starring Tom Cruise, the sequel still ended up topping the box office with the biggest opening in the Mission: Impossible franchise yet. It also gave Tom Cruise his second biggest opening weekend ever.
Let's dive into the Mission Impossible Fallout box office numbers below.
Forbes reports Mission: Impossible – Fallout landed $61.5 million in the #1 spot at the domestic box office, coming in just behind Tom Cruise's biggest opening weekend ever, which was War of the Worlds, which pulled in $64 million in 2005. That's enough to top Mission: Impossible II's opening weekend haul of $58 million. It's also Paramount's biggest opening since the Teenage Mutant Ninja Turtles reboot in 2014, which is a little sad.
Worldwide, the movie from director Christopher McQuarrie opened to $153 million, and that's not bad considering it's only open in 40% of the international markets so far. Even so, the movie is already outpacing Mission: Impossible – Rogue Nation at the international box office by 19%, and it still has to open in China, where the preceding sequel pulled in $135 million.
However, when it comes to ticket sales in the United States, Mission: Impossible – Fallout is selling fewer tickets than Rogue Nation. Still, the movie pulled off a solid debut, and if it has the kind of box office legs that both Ghost Protocol and Rogue Nation did, it'll continue to rake in money as summer winds down and box office competition is low. Projections have the movie making as much as $218 million domestic based on how the previous sequels performed or as little as somewhere between $164 million and $181 million. Only time will tell.
The opening that wasn't so lucky this weekend was Teen Titans Go! to the Movies. The animated spin-off of the TV series featuring DC Comics superheroes in a family friendly comedy opened in fifth place with $10.5 million. No one was expecting the movie to be a runaway hit, but that's a pretty disappointing opening weekend for a project geared towards kids and families, especially since it features a ton of comic book characters. That's especially true since most of the reviews have been pretty favorable. The movie couldn't even surpass Hotel Transylvania 3, which has already been in theaters for two weeks.