Kevin Smith Teases Massive Mystery Writing Gig With The Biggest IP He's Ever Worked On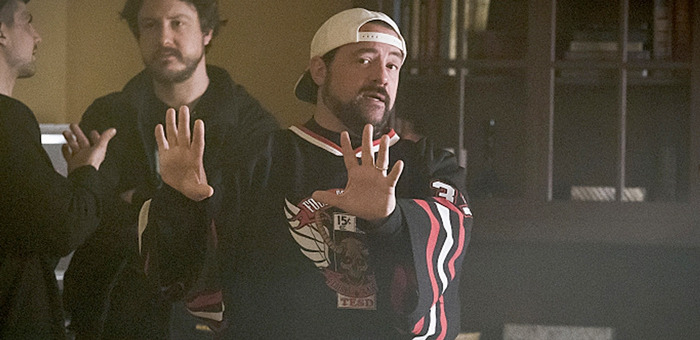 Kevin Smith has a career that spans movies, television comics, books and podcasts. He began with the breakout indie hit Clerks, and expanded that into his own little cinematic universe called The View Askewniverse, which includes movies like Mallrats, Chasing Amy, Dogma, Jay and Silent Bob Strike Back and Clerks II. In recent years he's expanded into the world of thrillers and horror with Red State, Tusk and Yoga Hosers.
Outside of directing movies, he's dabbled in comic books with story arcs for Daredevil, Green Arrow and Batman. And more recently he's been playing in the DC Comics Arrowverse on television by directing episodes of The Flash and Supergirl. He's also discussed all of these experiences in Hollywood and more in several books and podcasts over the years. But now he's teasing something much bigger.
Here's what Kevin Smith posted to Twitter early Sunday morning this past weekend:
Just finished a huge writing gig that I haven't talked about publicly yet. It's the most massive IP I've ever been allowed to play with and if the powers that be decide to move forward with the project, it would be the biggest budgeted anything I've ever done. Wish me luck...

— KevinSmith (@ThatKevinSmith) July 29, 2018
When you look back on the kind of intellectual property Kevin Smith has worked on over the years, especially from DC Comics, then you know this has to be something huge. Initially one might think that Kevin Smith could be contributing something to the DC Extended Universe, but his work on several DC Comics seems to preclude that since there aren't many pieces of intellectual property from that world which would be considered bigger than Batman.
One possibility might be that Kevin Smith is working on a new Batman movie, which would fit in line with his description. It would depend on if he's thinking about Batman in the comics as a separate intellectual property than Batman in the movies, because the latter would be a huge jump for Smith.
If you're thinking that Superman could be an option, let's not forget that Kevin Smith already wrote a Superman script that was meant to be directed by Tim Burton and would have featured Nicolas Cage as the Man of Steel. So it's likely not any DC Comics character since Batman and Superman are undoubtedly the company's biggest superheroes. So what else could it be?
A New Marvel Studios Project
Marvel Studios is the pillar of comic book movies right now. If Kevin Smith were hired to write a script for a project in the Marvel Cinematic Universe, that would likely be the "biggest budgeted" project he's ever worked on. However, it would take one of Marvel's biggest superheroes to fit the bill of being the "most massive IP" that he's ever been allowed to play with. It's not out of the realm of possibility, but Kevin Smith's work on Batman comics makes any other comic book property a little less likely unless, again, he's considering comic book writing to be a smaller intellectual property than a big screen comic book effort.
Something in the Star Wars Universe
The only other franchise that feels like it could surpass what Kevin Smith has already worked on (as far as the size of intellectual property is concerned) is something in the Star Wars universe. While Smith has made references to Star Wars in a bunch of his films, even working with Mark Hamill and Carrie Fisher in Jay and Silent Bob Strike Back, he's yet to tackle any kind of legitimate Star Wars project.
Since Lucasfilm is in the midst of developing several Star Wars television shows, it would stand to reason that maybe they asked Smith to work on a new project set in a galaxy far, far away. He's proven that he can handle spectacle television with The Flash and Supergirl, with his episodes receiving acclaim from fans and critics alike. And as a die-hard Star Wars fan, Lucasfilm might see him as someone who could bring something fresh to the table.