'Ozark' Season 2 Trailer: There Is No Off-Season In Jason Bateman's Dark Netflix Series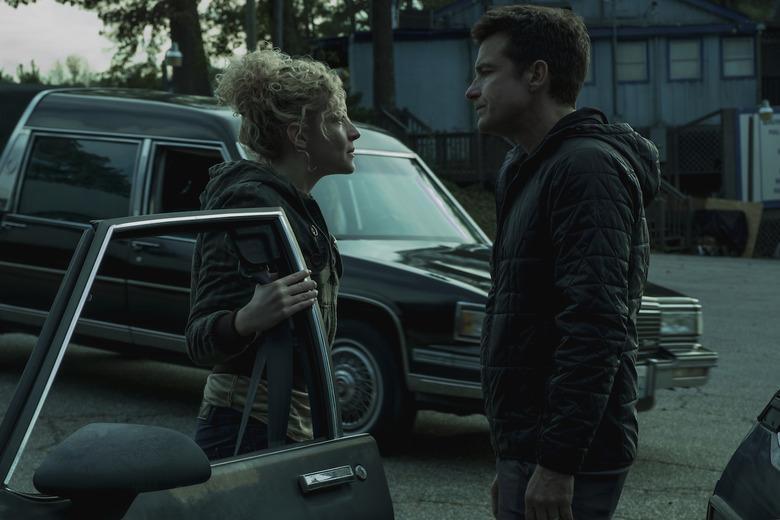 Ozark returns for a darker second season — figuratively and literally. The blue-tinted Netflix drama starring Jason Bateman and Laura Linney checks in with the Byrde family soon after the tense events of season 1, and things have only escalated.
Ozark Season 2 Trailer
The first season of Ozark followed Marty Byrde (Bateman), his wife Wendy (Linney), and their two children as they flee Chicago to set up a money laundering operation in Missouri in service of a cartel to whom Marty owes a scary amount of money. But as the cartel descends on their gloomy, perpetually cloudy home, the Byrdes find that it's not just their finances that are in danger — it's their lives.
The sophomore season of the Emmy nominated drama picks up as matters are starting to escalate for the Byrdes, with Marty considering murder to keep the cartel at bay. But a new attorney (Janet McTeer) sent by the cartel may present a deadlier foe to the Byrdes, threatening if Marty makes one wrong word, "they'll kill your children."
The first season of Ozark received five Emmy nominations, including two directing nods.
Here's the official synopsis for Ozark season 2:
In its much-anticipated second season, Ozark continues to follow Marty Bryde and his family as they navigate the murky waters of life within a dangerous drug cartel. With Del out, the crime syndicate sends their ruthless attorney Helen Pierce to town to shake things up just as The Byrdes are finally settling in. Marty and Wendy struggle to balance their family interests amid the escalating dangers presented by their partnerships with the power-hungry Snells, the cartel and their new deputy, Ruth Langmore, whose father Cade has been released from prison. The stakes are even higher than before and The Byrdes soon realize they have to go all in before they can get out.
Ozark season 2 premieres on Netflix on August 31, 2018.