Cool Stuff: 'Stranger Things' Kids 'Ghostbusters' Action Figures Are Arriving In Time For Halloween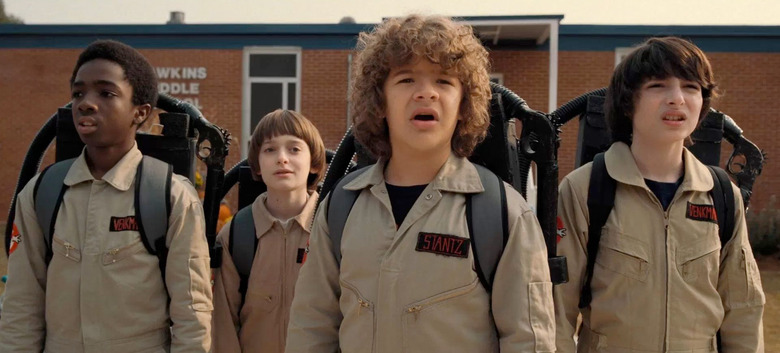 Since we'll be waiting until next summer to see new episodes of Stranger Things, you might need something to hold you over until then, and a new set of action figures from the Netflix show's second season should do the trick.
McFarlane Toys has released official details on their Stranger Things season 2 action figures featuring Mike Wheeler, Will Byers, Lucas Sinclair, and Dustin Henderson in their homemade Ghostbusters costumes that they were for a little trick-or-treating in Hawkins, Indiana. Find out how you can get your hands on them.
McFarlane Toys Stranger Things Ghostbusters Action Figures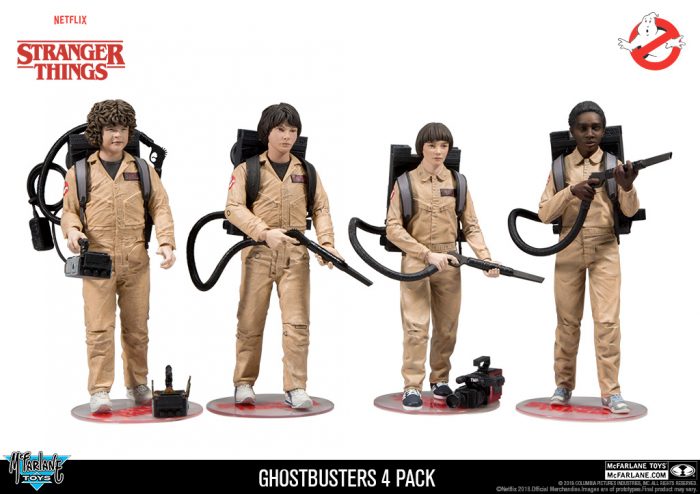 The Stranger Things Ghostbusters action figures will cost $69.99, but they'll be a GameStop exclusive available on October 15. But it's available for pre-order right now so you can get it sent to your house as soon as they're ready to ship.
As you can see, the figures have outstanding sculpts of actors Gaten Matarazzo (Dustin Henderson), Finn Wolfhard (Mike Wheeler), Noah Schnapp (Will Byers), Caleb McLaughlin (Lucas Sinclair). My only problem is that there isn't the slight color variation in their jumpsuits as there is in the costumes on the show. But at least they each have the perfect accessories and features
14+ points of detailed articulation for optimal play-action
Dustin includes the iconic Ghost Trap with Dart and Proton Pack
Will includes detailed TMP Video Camera, iconic Proton Pack and jumpsuit
Lucas includes iconic Proton Pack and jumpsuit
Mike includes iconic Proton Pack and jumpsuit
All Proton Packs are removable
Figures showcased in stylized Stranger Things and Ghostbusters deluxe box packaging
Features authentic hyper-realistic paint decoration of the iconic jumpsuits worn by the original Ghostbuster cast.
Pre-order the Stranger Things Ghostbusters action figures right here.