AMC "Had A Third Party" Involved In Chris Hardwick Investigation [TCA 2018]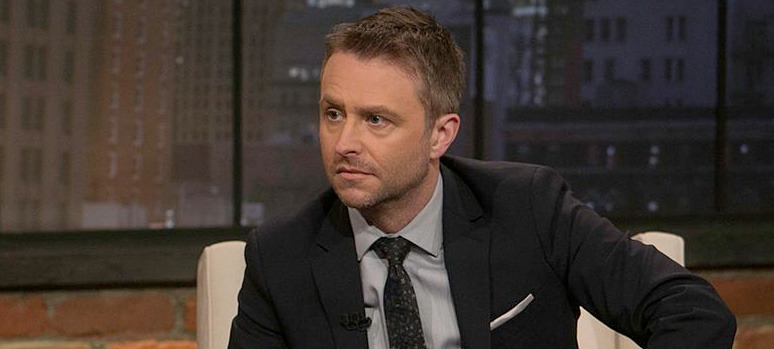 This week AMC announced that Chris Hardwick
as a host of Talking Dead, the Walking Dead aftershow that follows new episodes of the series and the spin-off Fear the Walking Dead.
following ex-girlfriend Chloe Dysktra's
detailing the emotional and sexual abuse she suffered under an ex-boyfriend others inferred to be Hardwick.
Following the accusation where Hardwick wasn't specifically named, he denied the claims made about him but chose not to moderate Comic-Con panels amidst the controvery. It seemed like Hardwick might be finished until AMC announced Hardwick's return this week in press release saying they concluded an investigation into Dysktra's accusation.
However, legal analysts on social media shared that the law firm conducting the investigation, Loeb & Loeb,
also represented the Hearst corporation
on a number of matters. Coincidentally enough, Hardwick married into that family when he wed Lydia Hearst, and that rubbed people the wrong way. Since AMC presented panels to the Television Critics Association on Saturday, I found President and General Manager of AMC Networks Charlie Collier and asked him if he thought Loeb & Loeb representing Hearst in other cases struck him as a conflict of interest. Find out what he had to say below.
"We, from the start, took it very seriously and made sure we had a third party to validate," Collier said. "Ivy [Kagan Bierman], the attorney from Loeb & Loeb, had had experience in that realm."
I was halfway through asking if they were concerned celebrity guests might refuse to do the show if they have remaining concerns about Hardwick. At that point, additional AMC executives came over to say they had no further comment beyond what they released this week. Understandable. I did not expect to get one answer, considering executives did not take questions during the panel.
Further questions still remain after Chris Hardwick's reinstatement. Is Hardwick's other talk show Talking reinstated too? The second season premiere was axed after these accusations surfaced. Are Walking Dead stars contractually obliged to appear on the aftershow if they don't want to? If a Walking Dead or Fear the Walking Dead star objected to appearing with Hardwick, would they be allowed to take such a stand? These are all questions that need answers.
As for  Chloe Dykstra, she tweeted this out on Thursday in an effort to put the matter behind her:
I originally wrote my essay so I could move on with my life, and now I intend to do so. Thank you, again, to those who have supported me during this. pic.twitter.com/sjBEKGpY7v

— Chloe Dykstra (@skydart) July 26, 2018
In short, she only wrote the Medium essay to move on from the abusive period of her life and now she will do so. She said she did not wish to ruin her ex's career, though wish he'd had a private conversation with her. Further, she did not provide further details to the investigation.
Does this talk of a third party being part of the investigation do anything to quell concerns and accusations about Chris Hardwick seemingly getting his position at AMC back? We'll see how the public reacts to his return to the air when the time comes.