Apple Is Creating A 'Time Bandits' TV Show For Their Streaming Service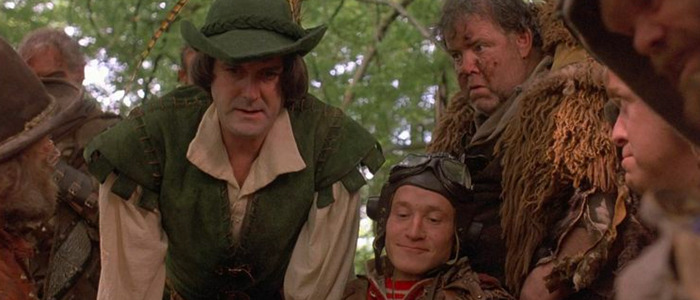 Apple refuses to stop adding shows to their streaming service. Don't even try to stop them. The latest: a Time Bandits TV series, based on Terry Gilliam's film of the same name. The Time Bandits series joins an ever-growing list of eclectic original programming set to debut on Apple's streaming service.
If you have an idea for a TV show, you might want to call up Apple, because they're out here green-lighting everything. Deadline reports that they've now decided to turn Terry Gilliam's 1980 cult classic Time Bandits into a series. The show will be developed as a co-production between Anonymous Content, Paramount Television and Media Rights Capital, and Gilliam will be listed as an executive producer, even though he's unlikely to have any direct involvement with the series.
Time Bandits is hailed as one of Gilliam's best, and it was certainly one of his more popular films. Here's the synopsis:
A young boy joins a group of renegade dwarves on an unpredictable journey through time in this humorous fantasy. Monty Python animator Terry Gilliam mostly achieves a tricky balancing act in his second feature as sole director, creating a dark, irreverent comedy disguised as a family adventure. Particularly amusing are the boy's encounters with various historical figures, including an entertainment-starved Napoleon (Ian Holm), a powerful Agamemnon (Sean Connery), and a surprisingly stuffy Robin Hood, embodied by Gilliam's Python cohort John Cleese. Episodic by nature, the film is less successful when dealing with the larger narrative, which concerns the pursuit of the dwarves and their time-traveling map by the Supreme Being. However, the combination of Gilliam's visual exuberance and the witty script (by Gilliam and Michael Palin) ensures an entertaining, if erratic, journey.
Time Bandits is just the latest show from Apple. They've got a whole slew of programs lined-up, almost none of which sound the same. There's a wide variety here. Something for everybody, essentially. Here are just a few of them.
An Amazing Stories reboot, minus original showrunner Bryan Fuller
Jennifer Aniston and Reese Witherspoon's untitled drama about the making of a popular morning TV show
An "innovative drama" from La La Land director Damien Chazelle
See, a sci-fi series from I Am Legend director Francis Lawrence
Are You Sleeping, with Octavia Spencer as a podcaster who reopens a cold murder case
Little America, an immigrant-centric show from the writers of The Big Sick
A mysterious thriller from The Sixth Sense director M. Night Shyamalan
Another sci-fi project from Ronald D. Moore (Battlestar Galactica) about what would have happened if the global space race never came to an end
Kristen Wiig was also supposed to star in a half-hour comedy for them, but she had to drop out due to Wonder Woman 2 obligations.
Time Bandits could work as a TV show. The film is a bit episodic, with the characters jumping from one time period to a next. I'd assume each episode would have the characters in a different time period – sort of like Quantum Leap, without the body-jumping. Or the recent series Timeless, but with a much more fantastical tone.
Apple's streaming service is likely to arrive in 2019.