'Wonder Woman 1984' Omaze Campaign Wants To Turn You Into A 1980s Character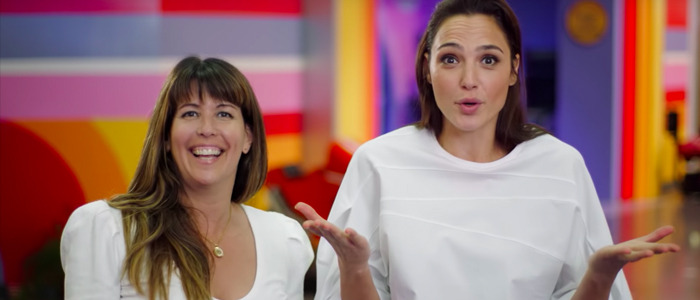 Want to visit the set of DC's upcoming sequel Wonder Woman 1984 and hang out with superstar Gal Gadot? Instead of hatching an elaborate plan to bypass security at one of its filming locations, why not be escorted onto set and given the VIP treatment before getting decked out in 1980s hair, makeup, and wardrobe and appearing in the movie as an extra?
Omaze is giving fans the opportunity to do exactly that. They're back with another one of their once-in-a-lifetime campaigns, and as usual, all of the contest entries go toward supporting a great cause. Watch the new campaign video below, with Gadot and director Patty Jenkins explaining exactly what this contest has to offer. 
Wonder Woman 1984 Omaze
You've gotta love Jenkins getting into the time period and rocking those shoulder pads. And what on Earth is going on in the multi-colored background of the set they're on? Is that at a mall, or have they stepped into a trippy recreation of the 1960s Batman TV series?
Fans can visit omaze.com/wonderwoman and donate as little as $10 (or more, if you're feeling generous) to enter the contest. Proceeds from this campaign will support the Anti-Recidivism Coalition, which advocates for criminal justice reform and works to build healthier communities.
Gadot and Jenkins took the stage in San Diego's Hall H at Comic-Con just a few days ago to explain how the new film is not a sequel as much as it's a whole new chapter in the Wonder Woman saga. Though they'd only been filming for a few weeks, they also showed off some footage that made fans lose their minds with excitement; you can read our detailed description of that if you missed it.
We know that Chris Pine's Steve Trevor is returning (though how he's around in the 1980s after seemingly dying in a plane crash at the end of the first Wonder Woman is still a mystery). We also know that the sequel will introduce Kristen Wiig as Barbara Minerva, who, in the comics, is an archaeologist who gets cursed and possessed by an evil entity known as Cheetah. You can see a first-look photo of that character right here.
Fast forward to the 1980s as Wonder Woman's next big screen adventure finds her facing an all-new foe: The Cheetah. As previously announced, the film also stars Kristen Wiig in the role of the Super-Villain The Cheetah, as well as Pedro Pascal. Chris Pine also returns as Steve Trevor.
Wonder Woman 1984 opens in theaters on November 1, 2019.