Nickelodeon Renews 'Rise Of The Teenage Mutant Ninja Turtles' Ahead Of Its Premiere – Here's What To Expect [TCA 2018]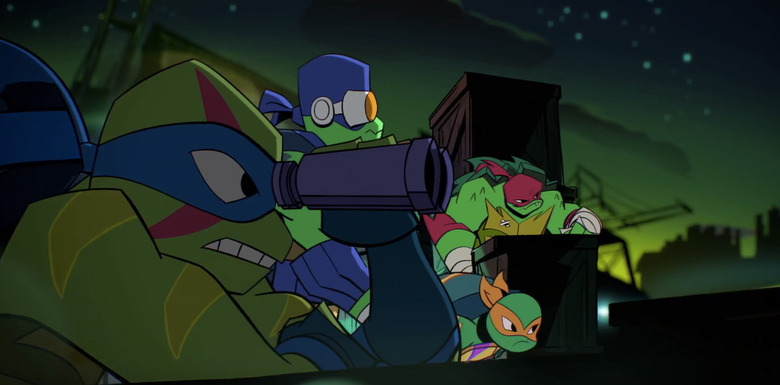 Nickelodeon announced to the Television Critics Association that they are renewing Rise of the Teenage Mutant Ninja Turtles for a second season. The show doesn't even premiere until September, and a panel of the creators and voice actors followed the announcement. Executive producers Andy Suriano and Ant Ward described how they took previous incarnations of TMNT and shook them up.
"There are certain inherent qualities of the Turtle franchise that have been so resilient and popular," Suriano said. "We played with it like a chemistry set and distilled the elements we thought would make an exciting cartoon for today's generation."
Nickelodeon produced the last animated Turtles series in 2012. That was more of a traditional TMNT show, in 3D animation.
"The 2012 iteration paid homage to existing canon," Ward said. "We wanted to do something inherently Turtles but something very, very different and fun was the marching orders we gave ourselves. Every frame of this show is infused by fun. We really entered in to this science fantasy play space that hadn't been visited in recent incarnation but fits very organically in the franchise."
Doing something different meant coming up with new villains for the Turtles to battle.
"We were encouraged to do something different and unique," Suriano said. "We decidedly didn't go with Shredder for our main villain. We chose John Cena as Baron Draxum this warrior scientist. We created a bunch of different ones like Meat Sweats voiced by Johnny Rotten. Lena Heady doing Big Mamma. We wanted to do a Batman '66 rogues gallery of villains."
The reason to avoid Shredder was to avoid repetition.
"Typically Turtles as a franchise can run afoul of repetition, with that relationship between Shredder and the turtles being the go-to," Ward said. "We really wanted to explore a whole new rogue's gallery of villains. You never quite know who's going to turn up so every one of those has a different relationship."
Suriano added, "We wanted to create stories that had unexpected results. If you have Shredder in there, immediately you kind of know where the show is headed."
Rise of the Teenage Mutant Ninja Turtles has a new theme song. Self frontman Matt Mahaffey composes the show's music. Astute listeners will recognize some classic riffs in the new theme.
"It is a new theme song but there's elements of previous theme songs in it," Suriano said.
Johnny Rotten voices Meat Sweats as an actor, not a musician. The producers saw his acting work and knew he'd be perfect.
"We watched the Can't Believe It's Not Butter commercials he did," Ward said.
The turtles now are four different species of turtles too.
"It goes back to we wanted to be character-centric," Suriano said. "We wanted to look at each one as a unique family unit. So we started dissecting which character would fit which species of turtle."
Former Donatello voice Rob Paulson is now the voice director of Rise. The cast appreciated having a TMNT veteran on hand.
"Rob can do any voice," Ben Schwartz, who plays Leonardo, said. "He's literally doing the characters. Then he'll throw in Pinky from Pinky and the Brain."
The turtle's human friend, April O'Neil, has been reinvented too. She is voiced by Kat Graham.
"They decided to go with an African-American actress and character," Graham said. "I knew that being a part of Ninja Turtles was going to be a big deal. I had no idea the weight of that decision and how important it would be. When I was growing up there were no young black female cartoon characters that were in this position. By the time there were I was a little older, too older to appreciate it. What I hope to bring to this character is not just what comes with being a young black girl but the fierceness, the being able to hang with the boys, the playfulness, strength. I want young girls to see this and see that there is a brown cartoon character they can relate to. They can say, 'April O'Neil can do it, I can too.'"
Rise of the Teenage Mutant Ninja Turtles premieres September 17, 2018 on Nickelodeon. For more information, here's everything we learned about the show from its Comic-Con panel.